Ben Affleck Batman Costume Revealed for 'Batman v Superman: Dawn of Justice.' New suit inspired by Frank Miller's The Dark Knight Returns.
Well here's some more news for those anxiously awaiting Warner Bros' superhero team-up film Batman v Superman: Dawn of Justice.
Judging by the recent teaser it certainly looks like we might be getting the most visually authentic interpretation of Batman in a film. And today director Zack Snyder tweeted the full costume as a thank you to fans for attending the April 20th IMAX screening of the new trailer:
Thanks to everyone that turned out for the #MondayBvSSpecialIMAXEvent screenings tonight! #BatmanvSuperman pic.twitter.com/52KvKy1lUi

— ZackSnyder (@ZackSnyder) April 21, 2015
But an even better look at the costume came via Bleacher Report, who posted a look at the outfits for Batman, Superman and Wonder Woman that will be used in the film.
Any fan of Frank Miller's The Dark Knight Returns, will easily spot Snyder's visual inspiration.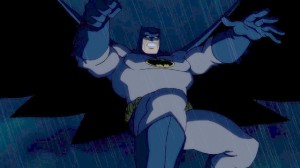 Not surprisingly given the film's battle between the two heroes mirrors the conclusion of Miller's seminal 1986 mini-series. This also extrapolates to the armored suit worn by Affleck during said brawl with Superman.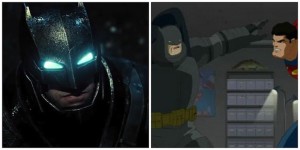 The suit is bulky and muscular, gray except for the cape and cowl, which looks close to black or dark blue. That, along with the brassy utility belt, makes it the most traditional Batman costume since the days of Adam West outside of comics.
I've never been a fan of the bat-suits from the films of Burton, Schumacher and Nolan, primarily due to the all-black color scheme. While I get they were going for a more urban camouflage look, it's much more aesthetically pleasing to see the Dark Knight in his classic duds.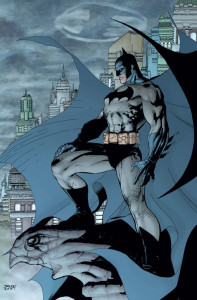 Snyder excels at capturing the look of comic books in cinema, given his reverential adaptation of Watchmen and Superman's slightly tweaked yet classic costume in Man of Steel. Now lets hope he pays as much attention to story and pacing, so DC fans get the superhero epic that we want. Bat-fingers way crossed.
What are your thoughts on Affleck's new Bat-suit? Tell us in the comments.