Austin City Limits 2015 Lineup Leaks Early: possible leak of 2015 ACL lineup includes Foo Fighters, Billy Idol, Tame Impala, TV On The Radio and more.
According to Austin 360, it looks like the 2015 ACL lineup has been announced…or has it? Apparently, the lineup appeared on the festivals official webpage, only to be taken down shortly thereafter.
Why it disappeared could be anyone's guess: perhaps the lineup has yet to be set in stone, or was a technical gaffe, but here's what the potential lineup looks like thanks to some screen grabs on Twitter and Instagram.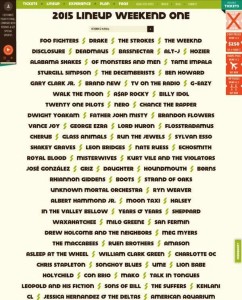 Weekend One lineup major acts include the likes of The Foo Fighters, The Strokes, Drake, The Weeknd, Disclosure, Tame Impala, Alabama Shakes, Alt-J, The Decemberists, Chance the Rapper, ASAP Rocky, Billy Idol, Run the Jewels, TV on the Radio, Brandon Flowers, Brand New, Father John Misty, Kurt Vile and the Violators, Gary Clark Jr. and Royal Blood.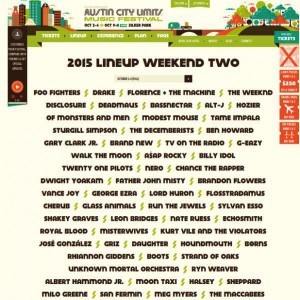 Weekend two offers a nearly identical lineup, but exceptions include Florence and the Machine and Modest Mouse amongst others.
All in all, it feels pretty similar to most festival lineups this year, and not terribly exciting for my tastes. But it's nice to see Billy Idol, the Foos, and TV On The Radio on the bill.
We'll have to wait for an official confirmation from ACL, but if this is the correct lineup, what're your thoughts? More excited than me? Equally meh? Tell me in the comments.
UPDATED: The official lineup has been announced and by and large its the same as the leaked band roster. Check it out here.