Albums Revisited: Ween's '12 Golden Country Greats' Turns 20: a look back at one of the oddest musical detours of the 90's on its 20th anniversary.
Ween were one of the weirdest bands of the 90's, impressive given it was one of the most eccentric musical decades. While the group fronted by Dean and Gene Ween (aka Mickey Melchiondo and Aaron Freeman) certainly qualify as "alternative," that term barely scratches the surface.
The (recently reunited) chameleonic pranksters' unique sound encompassed prog, punk, R&B and metal on albums like God Ween Satan, The Pod, Pure Guava and Chocolate and Cheese.
But even by their left-of-center standards, their 1996 effort 12 Golden Country Greats (which turns 30 on July 16th) was one oddball concept.
By that point in Ween's career their musical aesthetic was fairly established: inventive songs played intentionally out of tune with pitch shifted vocals spouting lyrics that veered between blatantly offensive to surreally deranged.
1995's Chocolate and Cheese had certainly raised the stakes: tracks like A Tear For Eddie and Spirit of '76 proved the group had impressive musical chops. But 12 Golden Country Greats (which contained only 10 tracks–wink, wink) was a different beast entirely.
While their penchant for bizarro lyrics remained intact, its purist sound defied their usual eclecticism. Working with producer Ben Vaughn, the duo reached out to a group of veteran country session musicians who had collectively worked with Willie Nelson, Johnny Cash, Elvis Presley and Ray Charles, to name but a few.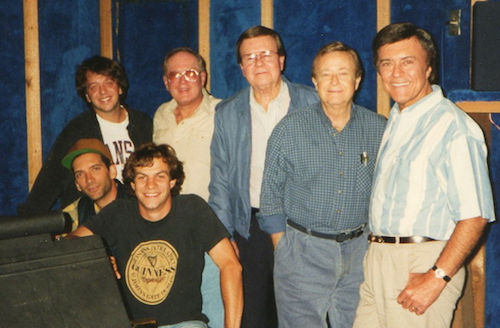 Vaughn explained his cagey strategy in an interview with Taste of Country: We thought this was a funny way to do it, I said, "Let me be the a—hole producer, who tells you that you're not good enough to play on your own record, and we're bringing the A-Team in." And they said, "Oh, we love that. That's awesome. We always wanted someone to do that to us." So they were kind of living a dream that's usually a nightmare for everyone else.
But not every one accepted the job: We lost a couple of guys. I wanted Bobby Emmons to play keyboards along with Pig Robbins, and he passed because he's a deacon in his church and said, "I prefer not to work on blue material.
While Vaughn's intention could be misinterpreted as smoothing Ween's rough edges for commercial success, it actually made lyrics on tracks like Scrape The Mucus Off My Brain even more absurd when injected into traditional country arrangements.
Piss Up A Rope, the album's first single is another example of this unlikely synergy; a hilarious parody of a country break-up tune, but with lyrics too blue to ever get played on country radio:
You can piss up a rope
And watch me giggle
For the last 6 months
I been packin' your bag
You can wash my balls
With a warm, wet rag
Only Ween would get sued by electronic music composer Vangelis while making a country album. Yep. That actually happened after the Blade Runner scoring Greek musician claimed their song Japanese Cowboy ripped off his theme to Chariots of Fire. In the end, a compromise was reached and he shared a co-writing credit.
This wasn't the only legal hurdle: the gently rambling Powder Blue originally featured a sample of a Muhammad Ali speech, but it was yanked after his lawyers threatened action–but not before the original version was accidentally included on the first pressing.
While 12 Golden Country Greats was genuinely well-received, it got hammered by critics for offensive content. In addition to some finding Piss Up A Rope sexist, the over-the-top Mr. Richard Smoker was also deemed homophobic.
But the album is so over-the-top that Golden Country Greats is the musical equivalent to Blazing Saddles. Offensive? Sure. But the duo's grade school humor was never meant to be taken seriously in the first place.
But it's actually the cleanest track that's disconcerting. Fluffy starts off like a laconic campfire tune about a man's best friend. But the narrator just sounds off, both in Freeman's senile cowpoke delivery and warped pitch-shifted vocals. It's both hilarious yet deeply uncomfortable–like something straight out of a David Lynch film.
Its unnerving quality was apparent to Vaughn as well: That song! That's when I really realized we had something, because to watch the A-list Nashville session guys chart out that song, and then run it down, was one of my favorite moments in my entire career in the business, because they were so serious about getting 'Fluffy' right, not knowing that we were going to slow down the track afterwards, and make it even slower, with Aaron's voice pitched down.
While Country Greats was a one-off, it's timeless production has benefitted it greatly. It still sounds delightfully out-of-place 20 years later. It proved a striking diversion before Dean and Gene would reconvene with their original bandmates for their next opus, 1997's The Mollusk, which I'll also be celebrating when it turns 20 next year.
Own Ween's '12 Golden Country Greats' via Amazon below: