Albums Revisited: The Cult's 'Electric' Turns 30. a look back at why The Cult's breakthrough album set the stage for heavy alternative rock and the decline of hair metal.
Note: this article was originally published in 2013: it has since been updated.
Earlier this week I got a chance to see The Cult at ACL live in Austin. They performed their breakthrough album Electric in is entirety to a packed house (click here for my review.)
The audience sang along to every word (even if singer Ian Astbury missed a few). It was a fun evening.
So why is the Electric album so beloved that it warrants a nostalgic tour 26 years after its début?
Some perspective:
The Cult were, and always will be a curious band. Their sound is like a Rorschach test, as everyone views their music differently. To some they're metal. To others hard rock. For folk's like myself, they're progenitors of the heavy alternative sound that would define the 90's. And for some they're a Goth band.
So, how can one band be all those things? Because their best album's all sound so markedly different in their production.
The Cult first came to prominence with the goth-tinged album Love which boasted ethereal hit single  She Sells Sanctuary.
The album was a modest success on college radio, so the pressure was on for a follow-up that would break bigger in America. The album, tentatively titled Peace, was helmed by Love producer Steve Brown. But the band weren't thrilled with the results, and wanted to find a new producer.
This upset their label, given the money spent for recording. But Astbury had other ideas. Inspired by hip-hop, he reached out to producer Rick Rubin, famous for working with Run DMC and The Beastie Boys. But Rubin also produced Slayer's Reign in Blood and proved the ideal creative foil for the band's new direction (he would later go on to produce Danzig's debut album, which has a similar feel).
Guitarist Billy Duffy said this of Rubin:  I think Rick's quote was the best, that he didn't produce The Cult so much as reduce them. We needed some serious minimalism, and he came in and did that and we took away a lot of stuff.
That is to say, Rubin cut out all the Goth atmospheric excess of  Love, opting instead for a leaner unadorned sound reminiscent of AC/DC's early albums. He remixed much of the prior material, in addition to recording new music with the band.
Duffy has also often remarked being embarrassed by the exposed frailties of his playing, with no delay or chorusing effects to disguise any mistakes.
But the trade-off were more immediately grabbing anthems. The strident crunch of Wildflower. The Boogie rock of King Contrary Man. The Zeppelin blues of Aphrodisiac Jacket, and the Rolling Stones on steroids vamp that was monster hit Love Removal Machine, all have immense appeal.
In addition to Astbury and Duffy, the rhythm section of the album is equally impressive. Former Bassist Jamie Stewart lays down a melodic groove and ex-drummer Les Warner beats the shit out of his kit, all adding to a seismic force.
Electric filled a crucial void in the 80's. Hard rock and melodic metal was in a sad state. Cock rock had grown flaccid and self-parodic with rock stars teased Aquanet fright wigs and masturbatory guitar solos.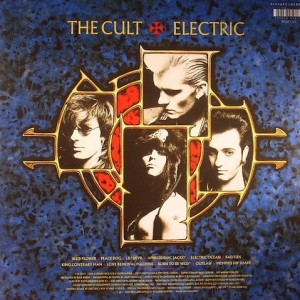 The Cult reintroduced an earthier version of rock, which would influence Guns'N'Roses (who opened on their Electric  tour). They would later return the favor by stealing Cult drummer Matt Sorum, and eclipsing The Cult in record sales.  But the seed that was planted made hair metal look ridiculous by comparison.
Even The Cult's videos showed a harder edge than their contemporaries (even if Astbury's pirate shirt looks  ridiculous now)
And Astbury's bizarre, metaphoric lyrics were miles away from the sophomoric sex rants of  Poison or Warrant. The Cult liked to rock, but they weren't brutes.
But this isn't to say the album is without its detractors; The Cult were slaughtered by the music press. For all its success, the band were sensitive to their critics, none more so than Astbury.
But for fans of the band and album, the criticism fell on deaf ears. Ears that were deafened from listening to Electric non stop. And LOUD.
I don't know why I gravitated so much towards this album and this band. I just know I found the songs and energy exciting. It made me feel alive, and listening to it, made me feel slightly less awkward in my teenage skin. I wanted to look like Ian and play Billy Duffy's big white Gretsch guitar.
I guess some things don't need major explanations (although I tried in my Cult post last year). But it blasted from my car on every road trip, and tested my newbie guitar skills as I tried to play along.
And I wasn't alone in my appreciation. Their sound and style heavily influenced Jane's Addiction, and alternative culture in general. They made it safe for artsy kids to rock out without feeling like they were dumbing it down.
Electric's  influence would continue with the heavy alternative 90's rock sound. Grunge icons Soundgarden, Alice In Chains and Pearl Jam all credit The Cult as an influence, as does Smashing Pumpkin's frontman Billy Corgan.
The Cult are a band who've gained more respect with age, and the fact that they're playing to packed houses for an album almost 30 years old, shows just how timeless and vital Electric remains.
Do you have fond memories of The Cult's Electric? Tell us in the comments section.
Buy it on Amazon: