Albums Revisited: Stone Temple Pilots' Core Turns 25: Looking back on STP's blockbuster (yet polarizing) début album ahead of its 25th anniversary deluxe reissue.
"Overnight success" is an often offensive term when describing a band. No group gets it together their first night out. It's the incubation process that counts, and some bands get an earlier break than others. Stone Temple Pilots were often accused of being an overnight success, but it took them four years to hit the big time. That's still pretty damn fast.
The group started their career in 1989 as Mighty Joe Young. They would sign to Atlantic Records in 1992, but first they had to change their name (due to a trademark issue). Inspired by the STP Motor Oil logo, they changed it to Shirley Temple's Pussy. When that didn't go over so great, Stone Temple Pilots was born.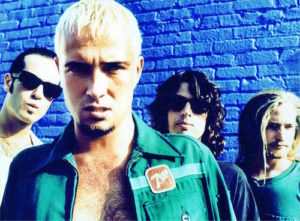 The band recorded their début album Core (which celebrates its 25th anniversary September 29th) with alternative producer du jour Brendan O'Brien (Pearl Jam, Rage Against The Machine, Soundgarden) in a scant five weeks. It's polished but unfussy structure helped ensure their success. There's an "if it ain't broke don't fix it" vibe on Core–simple, catchy rock songs with just enough odd angles to make them perfect for the Grunge era.
Core kicks off with the D-tuned slammer Dead and Bloated, with vocalist Scott Weiland screaming I am smelling like a rose that somebody gave me on my birthday deathbed intro right into guitarist Dean DeLeo's Les Paul pickup. And DeLeo's lumbering riff had a dangerous, dull ache that made it irresistible.
Sex Type Thing was the band's first big hit, and it's not hard to see why. It had a great riff, great vocals and a slick video that got a major push on MTV. Weiland's photogenic looks didn't hurt either. It was the perfect song to send a band to stardom in 1992. And it did…but at a cost.
Weiland was accused by many of misogynist lyrics (including you shouldn't have worn that dress!). This critique hurt him deeply, and he felt misconstrued.
While the song was written from the perspective of a rapist, it was an indictment of sexual predators and the objectification of women, partly inspired by Weiland learning his high school girlfriend was gang raped (and likely informed by the sexual abuse he suffered as a child).
Like the best rock stars, Weiland was as sensitive as he was abrasive. He hated being misunderstood, but he was often inarticulate in interviews. His lyrics were mysterious as a result, lending much to interpretation. Generation X could relate.
Click here to see where Core ranks on my list of best albums of 1992
While Robert DeLeo was the bassist for STP, he occasionally contributed guitar duties along with his brother. Plush was a result of his six-string work, the memorable guitar hook inspired by his love of jazz and ragtime music. It paid off handsomely, becoming their biggest hit.
The label knew Plush had the potential for a smash single, but the band didn't want to be a one-hit wonder, and buried it towards the end of the album. There was a method to their madness.
The Plush video also gave Weiland grief, his crazed facial expressions and vocal stylings recalling Eddie Vedder. Perhaps it was an unintentional, improvised moment, but it inspired mockery from naysayers. The acoustic version the band recorded for Headbangers Ball helped dilute this, with Weiland abstaining from Eddie-face, letting the stark arrangement illuminate just what a great vocalist he was.
Core was packed to (the core!) with even more hits: Wicked Garden was a solid rocker, but Creep was the real standout, showing the group could nail ballads as well as the hard stuff. It's haunting guitar melody and Weiland's campfire croon still resonate. It was one of the best songs named Creep in a decade full of great songs named Creep.
Beyond the singles, Core isn't quite as iconic–tracks like Naked Sunday, Piece of Pie and Where The River Flows aren't bad songs mind you, they just don't hold up as well.
Wet My Bed was the requisite "weird track" that made it on every 90's album–a goofy sonic sketch full of odd noises and Weiland pulling a Jim Morrison. It's a musical afterthought essentially (although it was the first piece recorded for the album), but that was par for the course back then.
However, it DID serve as the into to Crackerman, one of the bands most beatific songs (written about a homeless man Weiland had encountered). It still rocks like all hell, a great groove running throughout.
Sin is the odd man out, a Rush-inspired piece that shows the more arty, proggy side of the group that would rear its head on later albums.
The wild success of Core managed to pit critics and fans against each other. Reviews largely accused STP of ripping off Pearl Jam, Alice in Chains and Nirvana–and those claims aren't entirely baseless. They share the same musical DNA. Like those bands, STP were inspired by punk, metal, and classic rock. And I'm guessing they were signed because the label knew kids would eat it up.
Stone Temple Pilot's critical/commercial dilemma was never clearer than in an 1993 issue of Rolling Stone. Their annual reader's poll had the group listed as best new band. While the magazine's critics voted them as worst new band. Yes, that actually happened.
This was also an argument between plenty of Gen-Ex music nerds. STP weren't indie or underground enough, and admitting you liked them usually involved an argument. Hell, even I was on the fence at first, noting another (less discussed) musical comparison (the riff in Sex Type Thing is very reminiscent of Danzig's Snakes of Christ).
But here's the thing–Core grew on me. Fast. It's one of the catchiest albums of the 90's, and alternative rock in general. STP certainly weren't pioneers. Maybe they were opportunistic. Maybe they were hangers-on. But they knew how to write great rock songs. Melodic yet heavy. And Weiland was a fantastic frontman…and just as tortured as any Seattle figurehead.
In the end, if the music sounds good, who fucking cares who got there first?
Core sold a whopping 8 million copies, so the criticism didn't do anything besides wound the band's pride.
Time has healed those music snob wounds. STP's legacy is now secure as one of the great rock bands of the 90s. Unfortunately, like their peers, the group didn't make it out unscathed, Welland's battle with addiction detailing their career, and later his life.
But there's a purity to Core. A sort of innocence. Weiland and his band's maiden voyage of talent and ambition is forever immortalized, ready to revisit whenever the mood strikes.
Do you have any fond memories of Core 25 years on? Tell us in the comments.
Own Core 25th Anniversary Super Deluxe Edition on Amazon