Albums Revisited: Queens of the Stone Age's 'Songs For The Deaf' Turns 15: looking back on QOTSA's desert rock opus on its 15th anniversary.
Hey alright, it's Kip Casper Klon radio, L.A.'s infinite repeat
How we feeling out there? How's your drive time commute?
I need a saga, what's the saga?
It's songs for the deaf, you can't even hear it!
That mock radio broadcast marked the intro to Queens of the Stone Age's Songs For The Deaf, the group's third studio album. And that release (which turns 15 on August 26th) broke them to the masses, buoyed in part by Dave Grohl assuming drummer duties, and partly because it filled a huge sonic void in 2002.
It was a weird year for music. Nu Metal was peaking, but Korn, Staind and Linkin Park were still selling. Bands like Interpol, The Strokes and Yeah Yeah Yeahs were bringing back 80s post punk, and The White Stripes reinvigorated the blues. People were still buying CD's, but at a slower rate–the Internet had its fangs sunk into the music industries throat.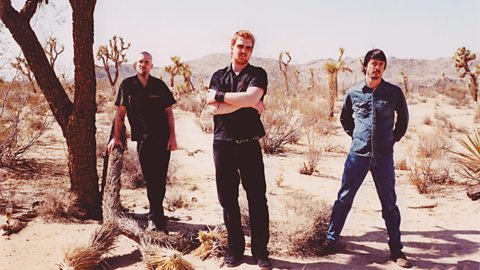 And into this contradictory fray came Songs For The Deaf. It felt perfectly titled. It didn't fit in any comfortable genre box. QOTSA were too smart and weird for Limp Bizkit fans but too macho for hipsters. They were grunge without the self-loathing. They were heavy, but they could swing. Stoner rock with nimbleness. And Deaf was the ultimate showcase for their sound.
2000's Rated R had shown their potential, as had their self-tiled 1998 début. But by the time of Songs release, it was clear they were upping their game.
Take the album opener You Think I Ain't Worth A Dollar but I Feel Like A Millionaire, which begins low in the mix, Josh Homme's guttural boogie riff burrowing like a snake in the sand, with Grohl's drums close behind. And then…BAM! The album's brickwalled production hits you square in the chest, while bassist Nick Oliveri's deranged howl raises the hairs on your neck (QOTSA always have the best album openers, don't they?).
This was followed by No One Knows, the band's biggest hit. It was the jam of 2002, and it still holds up as both an ass-kicking rocker and off-kilter pop song–Homme's guitar work is scalpel sharp, delicate in parts and bludgeoning in others.
Deaf's other magical ingredient was Screaming Trees frontman Mark Lanegan, who assumed vocal duties on several tracks. Queens' use of multiple collaborators gave the album an improvisatory atmosphere (also including the likes of Eleven's Alain Johannes and Natasha Schneider, and Dean Ween). This is yet another thing that made them unique. It felt communal, not ego-driven.
This also gave it a widely varied feel, as Homme explained in 2002: I've been thinking of this album since the first album, not necessarily the radio thing, but to me that isn't the full concept, the full concept is the diversity of it all…
A Song For The Dead is a case in point, showcasing Lanegan's haggard pipes and the group's ruthless stop/start transitions–it's one of many examples (see also First it Giveth) of how Grohl's drumming elevated the material, bashing his kit as brutally as he did with Nirvana.
Songs came out in a particularly odd time in my life. After being let go from a horrible job, and feeling burnt out on the Austin scene, I moved to Los Angeles with a dear friend. On a whim. No plan.
It wasn't my smartest decision, but it wasn't all bad either. It was an adventure for our early 30's. And on the second day in sunny California we picked up the CD. It was serendipitous. Songs was a loose concept album designed to simulate a ride from L.A. to the Mojave desert. It was our soundtrack.
It was sequenced perfectly as well, feeling both vintage and contemporary. Take God Is In The Radio, another Lanegan track that borrows the riff from The Doors Roadhouse Blues, infused with metal grit, or the title track, which was a mishmash of Iron Butterfly psychedelia and Sabbath bluster. It was fever dream bliss that carried us up and down the 101 (including a brief stint in Solvang, which answers the question "what if a theme park became a town"?).
Eventually my entertaining and surreal adventure in California came to an end. So I hunkered down and crossed the desert back to Texas. And that's when the album's "desert rock" vibe really kicked in for me. Each song perfectly encapsulated the New Mexico and Arizona terrain, highlighting the mystical aura of the region.
My future remained uncertain, making the album's second single Go With The Flow an appropriate anthem, and one of the group's most transcendent songs (But I want something good to die for/To make it beautiful to live, is one of Homme's best couplets).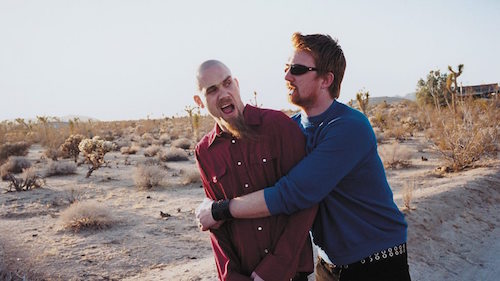 Deaf would be the last album to feature Oliveri, who was kicked out of the group after multiple squabbles with Homme. And while the band have made great music since, many hardcore fans have (rightfully) lamented his absence. He made the group heavier and more volatile, the perfect aggro yin to Homme's more mellow, melodic yang.
Deaf is still my favorite Queens disc, and I doubt it will ever be topped. It's an oasis in the arid 21st century that conjures widescreen, hallucinatory vistas, broadcast from some Vanishing Point-esque pirate radio station. It's phantom transmission is available for you any time your ears desire.