Albums Revisited: Nine Inch Nails 'The Downward Spiral Turns 20.' Trent Reznor's sonic wall of angst and despair still packs a nihilistic punch two decades in.
March 8th, 2014 will mark 20 years since Trent Reznor's dark masterpiece 'The Downward Spiral' seeped into the hearts and minds of disaffected teens and 20-somethings the world over.
And it holds up remarkably well today, showing just how sonically ahead of the curve Reznor was in both composition and construction.
At the time, Reznor was going through a messy breakup with record label TVT. That anger and disillusionment fueled the album's theme. It was a loose concept album revolving around a grim self-fulfilling prophecy.
The tortured vibe of the album was also influenced by where it was recorded; the home where Sharon Tate was murdered by Charles Manson. It was a flippant choice of studio (and abode, Reznor lived in it at the time), and this would come to haunt him. In an 1997 Rolling Stone interview he recounted being confronted by Tate's sister:
She said: 'Are you exploiting my sister's death by living in her house?' For the first time, the whole thing kind of slapped me in the face. I said, 'No, it's just sort of my own interest in American folklore.'..I guess it never really struck me before…She lost her sister from a senseless, ignorant situation that I don't want to support. When she was talking to me, I realized for the first time, 'What if it was my sister?' I thought, 'Fuck Charlie Manson.' I went home and cried that night. It made me see there's another side to things, you know?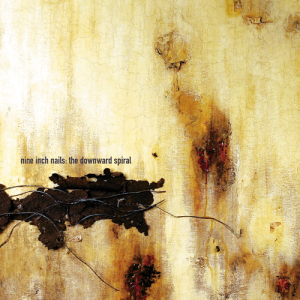 What makes The Downward Spiral such a musical touchstone is that the soundscapes are just as integral as the songwriting. Reznor has always had a knack for production, and this album showcased  his endless, obsessive inventiveness, pushing beyond the work he'd done on début Pretty Hate Machine, and the industrial metal roar of the Broken E.P.
The Downward Spiral is one of the earliest albums to use Pro-tools extensively. Reznor used it as an additional instrument,not a mistake erasing machine. He was expertly aided by super-producer Flood (U2, Depeche Mode) and engineer Alan Moulder (My Bloody Valentine).
He had low-tech moments of genius too; To get that pulsating bass effect on Closer, they used an envelope filter, with dying 9-volt batteries, because to Reznor's ears, they just sounded better. I can only imagine how many he went through to get that serpentine groove.
When I listen to Downward Spiral today, it still feels like a freshly pinched sonic nerve. All the sullen, depressed, angsty moments of my college days comes roaring back.
But what tempers the album is the mix of the brutal and tender. For every face scalding moment like Mr Self Destruct, you have Hurt. And for every short salvo like Man With A Gun, you have eerie slow builds like Eraser, which remains one of the most frightening songs of self-hatred put to tape. A Warm Place, by contrast, remains an immensely soothing composition.
Reznor was heavily influenced by the work of David Bowie and Brain Eno on the Low album, and that helped him forge a more mature and dynamic sound.
Reznor is in a far, (mostly) happier place these days. His recent album Hesitation Marks acts like a more well-adjusted Downward Spiral (as was his intention).
Must of us have moved on from the dark pit of 90's despair, which is odd given how times became much more troubled once the 90's ended. But self-obsessed vitriol was a luxury back then, today it feels too myopic. But on the occasional dark day when those stormy clouds cross your synapses, it cures what ails you.
So does Nine Inch Nails The Downward Spiral still hold a special dark place in your heart? Tell me in the comments below.
And March 8th, 1994 marks the 20th anniversary mark for two other seminal 90's albums.

Love Nine Inch Nails? Check out this awesome selection of authentic Nine Inch Nails apparel and gear from Rock.com!