Albums Revisited: 'Lift'- Sex, Drugs and Love and Rockets. Peter Marks looks back at the post-punk trio's final album.
By Peter Marks
The 1990s were not kind to Love and Rockets, though they went into them on top of the world thanks to "So Alive" their subsequent albums were routinely ignored by both the music press and the majority of their fans. After being scorned for 'Hot Trip to Heaven' and surviving a fire during the recording of 'Sweet F.A.' you'd have been forgiven for thinking they'd had enough. Not the case.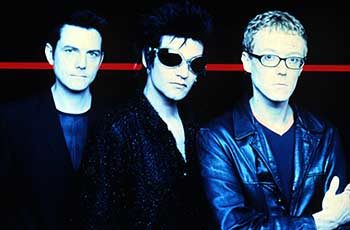 David, Daniel and Kevin had one more record in them and this was it.
After the attempt to bridge their classic sound with the more experimental tendencies they were increasingly favoring drew a withering response from the audience and their record label they returned to wrap up what they'd begun in 1994 although with an increased focus on excess.
As the lead single "Resurrection Hex" demonstrated, they were more than happy to integrate their musical legacy in Bauhaus into the proceedings. They even chucked in a bit of Adam and The Ants for good measure; remember, in the late 90s people still managed to sample without having the shit sued out of them. The background of this particular tune is also gone into at some length by David J in his remarkable book, have a look at it sometime. One of the stranger reads out there.
There was no longer any reason to be as they'd been before; when the album did come out it didn't draw much notice. This was mainly due to the aforementioned Bauhaus playing the first of their reunion dates a few weeks earlier. Love and Rockets, ironically, were old news to a lot of people. An entire generation who'd been burning their black candles and wearing out their copies of 'Mask' now had seen their idols resurrected.
Did it matter that 3/4 of the band had a uniquely different sort of musical career? No, not really. Just shut up and play "Bela", I've almost got the words down enough to sing along… hope it sounds like it did in 1979.
Love and Rockets' final release had the authenticity you get from veterans who have seen it all and have had enough. Only an outfit like this trio could have gone from the breakbeat-driven hysteria of "RIP 20C" into the sinuous leering of "Holy Fool" and then followed it up with a soul-searching dirge like "Too Much Choice". This was the most varied LP the band ever made and if you require more convincing then go to the tube and check out "Delicious Ocean", "My Drug" or "Deep Deep Down".
Both "Holy Fool" and "RIP 20C" were singles as well. The former was released while the other didn't get out there officially but some of us found copies. Tsk tsk, such naughtiness… and speaking of that, if the asshole who stole the soundboard recordings of their final show in 1999 is reading this: give them back to the band.
'Lift's emphasis was on hedonism, celebrity and the effects they can have when overdone, "Ghosts of the Multiple Feature" could be J's finest lyrical hour in the band. Alternating between sober reflection and sexual abandon, the song is a tour de force wrought out of heavy house beats and bizarrely chosen chord structures. Actually, 'Lift' is the personification of what they'd been out to do for many years: to create an electronic/acoustic work which somehow had a soul. This was achieved handily and if their label had not collapsed I think people would have eventually got into what was going on.
It was not to be, however, and although many have opined that the implosion of Red Ant was what did them in I said then and still maintain now that they were just through. They still are, you know. Love and Rockets are on the extremely exclusive list of bands who will never return, the others would be The Smiths and the Cocteau Twins. I managed to see J, Ash and Haskins three times and was always ecstatic to do so. There may have just been a clue as to the main fuel behind 'Lift' in that last sentence, who knows though, maybe they just recorded this in Minerva's temple and got carried away absorbing all the wisdom humankind had forgotten.
One thing is for certain, however. The finest track on here is right near the end and it sums up Love and Rockets with terrifying clarity: "Party's Not Over". The fish tank is no longer haunted but the mothership is above your head and I just want to do this…
Forever.
Peter Marks
25 September 2015
Own 'Lift' on Amazon: