Albums Revisited: Depeche Mode's Violator Turns 25: a look at back the 25th anniversary of an album that turned a synth-pop group into an arena rock band.
Depeche Mode's Violator celebrates its 25th anniversary on March 19th. And to fully understand that 1990 album's definitive impact, one has to rewind the clock back to 1988.
The group were at a cross-roads that year. Depeche Mode's upward trajectory was nothing sort of astounding. After years of being a cult new wave act, they finally broke out in America, and nearly sold out the Rose Bowl on their Music For The Masses tour.
Looking to capitalize on their growing fan base, the group began work on their next album with producer Flood in 1989. The band decided to forego extensive preproduction as in the past, and work in a more improvisational manner as Gore stated to NME:
"Over the last five years I think we'd perfected a formula: my demos, a month in a programming studio, etc, etc. We decided that our first record of the '90s ought to be different. We knew it was bound to still be Depeche Mode because my writing style is so characteristic and inherent to the songs"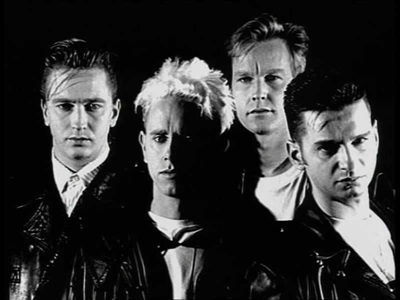 This would see band member Alan Wilder having a more pronounced influence on the group's sound, working in tangent with Flood on exploring new sonic textures, and leaving Martin Gore to focus more on songwriting.
The band recorded briefly in Milan, which culminated in Personal Jesus, which would become the album's Trojan Horse, smashing through pop and rock radio stations alike. There was little doubt that Violator was going to be a huge album.
This was borne out at a record signing party at a Wherehouse record store in Los Angeles, where a rabid crowd of 20,000 fans forced the group to leave for security concerns. A riot followed.
Growing up in Fort Worth, TX, I had taken my lumps for my love of Depeche Mode; hell I was even a reluctant fan at first given a close minded view on music lacking traditional rock elements. But after Violator, even the redneck jackasses that mocked the group began coming around. The album subtly bridged electronic pop with bluesy rock.
Violator is seen as Depeche Mode's finest hour, and it's not hard to see why. Every track is great. It's proof that commercial success can align with artistic integrity on rare occasions.
Right from the start, you knew you were in for sonic journey: World In My Eyes is a cinematic ode to sex featuring percolated percussion, orchestral synth stabs and that integral high register bleeping melody line. It's a harbinger of the rich sonic detail that would prove a through line for the entire album.
Lust is the glue that holds the album together: Sweetest Perfection equates carnal desire with drug addiction thanks to Gore's suggestive lyrics:
When I need a drug in me/And it brings out the thug in me/ Feel something tugging me/Then I want the real thing not tokens
One of the true highlights of the album are Gore and main vocalist Dave Gahan's harmonies: when Gahan's rich baritone collides with Gore's baritenor, its chill inducing, esp. on the triumphant chorus from Halo.
Another reason for the album's success are slight yet pronounced variations on a theme: Policy of Truth has a playful funk bass line worthy of a Prince track, while Blue Dress is one of Gore's finest slow burn torch songs. Enjoy The Silence takes the band's dark synth-sound to rock stadium overdrive.
But perhaps Waiting For The Night epitomizes what makes Depeche Mode brilliant: it's dark but touching, threatening but soulful, with Gore espousing cynicism and hopefulness in equal measure:
"And when I squinted/The world seemed rose-tinted/And angels appeared to descend To my surprise/With half-closed eyes/Things looked even better than when they were opened"
Violator was the band's first album to go platinum in America, and would dominate the world at large as well. For most fans it's a work they've never topped, which is apt (although I'll still go to bat for 1997's underrated Ultra as a worthy follow-up).
The proof is in the electronic pudding. Play Violator today and it still sounds relevant 25 years later, with production that puts most modern electronic albums to shame. It never sacrifices inventive production for song craft, giving every carefully manicured sound room to breathe. Other albums should be so lucky to sound as great in 2015 as it did in 1990.
Want to own Violator on iTunes of Amazon? You can order via the links below. And you can check out my entire Albums Revisited Series by clicking here.
Love Depeche Mode? Check out this awesome selection of authentic Depeche Mode apparel and gear from Rock.com!