Albums Revisited: Depeche Mode's 'Music For The Masses' Turns 30: a look back at the album that turned a gloomy cult electronic act into stadium rock gods.
Depeche Mode sure took a strange road to stardom. They started off as a synth-pop act, hitting it big with 1981's Just Can't Get Enough. But then their primary songwriter Vince Clarke bailed to form Yazoo. Band member Martin Gore took over, and their sound turned more morose and romantic. The lyrics grew colder and kinkier.
For most acts, shifting from upbeat pop to gloomy goth would have shrunk their fanbase. But Depeche Mode weren't an ordinary band, and by 1986's Black Celebration, they had left a statement of dark intent.
Not content to rest on that high-watermark, they released Music For The Masses one year later (which celebrates its 30th anniversary September 27th). It was an album that lived up to its title, breaking them wide in America, a country where they had only been a cult curiosity before, best remembered for their 1984 hit stateside single People Are People.
It wasn't easy being a Depeche Mode fan in Texas in 1987. Deemed too effeminate by fans of hair metal (ah, the irony), saying you liked them made you open to ridicule. They weren't cool. They weren't rock. They were dudes playing keyboards. One guy wore a leather skirt.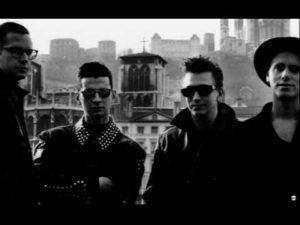 Music for the Masses went a long way towards changing their reputation, however. Gore's guitar-work added a rock edge to the group's synthetic soundscapes, brought to fruition by their sonic architect Alan Wilder, whose studio wizardry added layers of sonic detail and widescreen sound. It was the perfect album to catapult them from the fringes into the mainstream.
While the title Music For The Masses seemed to foreshadow this, Gore noted in an interview with NME that the name "was a joke on the uncommerciality of [the album]. It was anything but music for the masses!" Keyboardist Andy Fletcher added: "The title's … a bit tongue-in-cheek, really. Everyone is telling us we should make more commercial music, so that's the reason we chose that title."
Joke or not, it proved prophetic. Starting off with their hit single Strangelove, the group expanded their fandom and musical imprint. They were everywhere.
One reason for Masses hit appeal was director Anton Corbijn, whose stylish videos for Strangelove, Behind The Wheel and Never Let Me Down gave Depeche Mode a world-weary glamour. His grainy images of the band driving down the European countryside perfectly matched the dark textures of their music.
Frontman Dave Gahan noted as such, saying I think Anton saved us, visually, in the documentary Sometimes You Do Need Some New Jokes. MTV played the hell out of them. It was a potent synergy.
Never Let Me Down remains one of the band's best tracks, a song that speaks of the bonds of friendship…and perhaps of bondage as well, with lines like "Promises me I'm safe as houses/as long as I remember whose wearing the trousers" having a homoerotic edge that just added to their intrigue. It was also another sterling example of the dynamic dual harmonies Gore and Gahan wield together.
Behind The Wheel is another stunner, an erotic travelogue starting off with the sound approximating a spinning hubcap before launching into its noir atmospherics. Little 15, the fourth single didn't achieve the same success, but it was a goth ballad of the first order instilled with Gore's illicit lyrical motifs.
Beyond the singles, Masses is slightly unbalanced (Nothing and Pimpf, the weakest links) but mostly solid. Sacred, like many Gore compositions mixes sexuality and scripture, while All The Things You Said is a classic breakup ballad as only he can deliver, with his tremulous vocal front and center. I Want You Now is another keeper, with Gore prompting questions of lust over Darth Vader'ish percussive effects.
To Have and To Hold maybe the best of the deep cuts though–with Gore's lyrics of self-loathing and unchecked desire uttered with unnerving conviction by Gahan: Although I may flirt/With all kinds of dirt/To the point of disease/Now I want release/From all this decay/Take it away.
Masses would go platinum in America, making them the most unlikely of arena acts. If there was any doubt of their rampant success, playing a sold out performance at the 1988 Rose Bowl made it clear. Depeche Mode had made the leap from college radio darlings to rock heavyweights, not unlike U2 with The Joshua Tree (also released the same year).
There would be no slowing down either, as the group would prove with 1990's Violator, their biggest selling album to date. By that point, it was now publicly acceptable to admit to liking Depeche Mode.
But for fans who got in on the ground floor, Masses would prove bittersweet, the last time they would seem like an illicit secret kept between friends. The whole world was in on it now. It was too good not to share.
Buy 'Music For The Masses' on Amazon: