Albums Revisited: Alice In Chains 'Jar Of Flies' Turns 20: A look back at one of the biggest selling E.P's of all time.
I feel quite old today, because tomorrow Alice In Chain's 'Jar of Flies' celebrates its 20th anniversary. Wasn't I just in college, moping around to the sullen yet gorgeous acoustic driven tunes of Seattle's finest?
Love Alice In Chains? Check out this awseome selection of authentic Alice In Chains apparel and gear from Rock.com!
Like many 90's works, Jar of Flies was a spontaneous venture; the band weren't intending to release it as an album. According to the Jars Of Flies Wikipedia entry: Following Alice in Chains' extensive 1993 world tour for Dirt and appearance at Lollapalooza, the band members returned home to Seattle to find themselves evicted from their residence after failing to pay the rent. The band then moved into London Bridge Studio feeling lonely and depressed
Lonely and depressed, as opposed to their general feel good nature right? But that's what made Alice In Chains so powerful, no one made despair sound as engaging.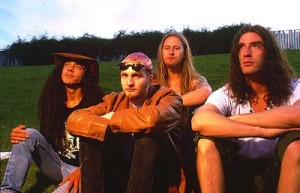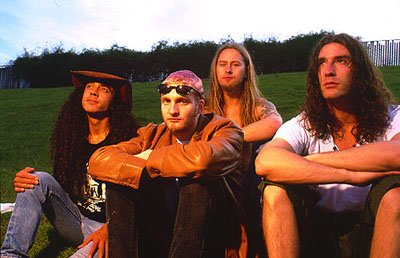 Late vocalist Layne Staley noted to Hit Parader at the time; We just wanted to go into the studio for a few days with our acoustic guitars and see what happened. We never really planned on the music we made at that time to be released. But the record label heard it and they really liked it. For us, it was just the experience of four guys getting together in the studio and making some music.
While only written and recorded in one week, the slick rain-soaked polish of the disc showed a band at the top of their game.
And for an E.P. containing only seven songs, it shows a diverse range of material. Somber numbers like opener Rotten Apple and meditative Nutshell (one of their loveliest melodies) were cut from the same cloth as their earlier E.P. Sap (which remains a stronger effort IMHO).
But there are some odd departures; the eerie ambient Whale And Wasp (featuring one of the best guitar note bends ever) was an elegant instrumental. And Swing On This was a very strange country'ish tune, which had them playing (perhaps too much) out of their comfort zone.
But the album is best known for its two hit singles, the jangly guitar bath of No Excuses, and the orchestral tinged I Stay Away, which mixes acoustics, strings and horns along with an sinister, gurgling, serpentine riff from guitarist Jerry Cantrell.
The best Alice In Chains songs featured Cantrell and Staley's elegiac dual harmonies, giving them a true distinction from the other grunge and metal acts at the time, all of which shine throughout the album.
Lyrically, it remains their winning mix of dismal and hopeful, featuring prose that now sounds eerily and sadly prophetic given Staley's demise due to addiction:
My gift of self is raped
My privacy is raked
And yet I find
And yet I find
Repeating in my head
If I can't be my own
I'd feel better dead 
Jar Of Flies made history upon its release; it was the first E.P. to debut at number one of the Billboard charts, and went on to triple platinum status. The success of their (mostly) acoustic approach would inspire them to do an episode of MTV's Unplugged, proving as equally memorable as stints from Nirvana and Pearl Jam.
Jar Of Flies is a wistful reminder of a time when bands weren't confined to be just brutally heavy, or acoustically meek; they straddled both worlds, and appealed to Gen X's feeling of displacement and unease.
Alice In Chains miraculously roared back to life with a new singer, making a commendable return to form, but one listen to any track off Jar Of Flies reminds us of what a great talent we lost; a one of a kind voice, older than its years, still sounding rich and haunting 20 years later.
Want to own Jar Of Flies on iTunes or Amazon? Click on the appropriate links below:
[amazon_image id="B00138GWYQ" link="true" target="_blank" size="medium" ]Jar Of Flies[/amazon_image]
And click here to read about another album turning 20 this week; Prong's Cleansing.
And here are other albums in our revisited series: