Album Review: Deftones come back with one of their strongest albums to date with 'Koi No Yokan'.
The Deftones were in major transition when they released 2010's Diamond Eyes. Bassist Chi Cheng was in a coma from a car accident, so they put their album Eros on hold and started fresh, working with new bassist Sergio Vega (Quicksand). It was a cathartic resurgence, with the band pulling together after years of internal discord.
Their new album 'Koi No Yokan' proves that return to form wasn't a fluke. Quite simply, it's one of their best albums yet, rivaling their 2000 landmark White Pony. Koi No Yokan's distinction is its perfect fusion of all their disparate elements. Bludgeoning groove metal, dream-pop swirl, and gothic drone are seamlessly integrated.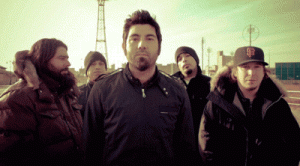 The album kicks off with Swerve City ,their most immediately catchy song to date, powered by Stephen Carpenter's detuned riff and Abe Cunningham's propulsive drumming . Singer Chino Moreno's vocals are strong and melodic; not fighting against the melody as is his usual want. The combination of the euphoric chorus with his banshee wail brings to mind vintage Jane's Addiction.
Romantic Dreams kicks off with a spidery minor key riff, followed by a widescreen 90's alt-rock anthemic chorus.
Their love of The Cure rears its head in Leathers, with Moreno letting out his inner Robert Smith in between shrieking snarls of metal bombast. And Tempest conjures dread and bliss in equal measure. Moreno's vague yet vivid lyrics fit the mood perfectly "I'd like to be taken apart from the inside, then spit through the cycle, right through the end".
There's still plenty of heaviness here; Poltergeist kicks off with a guttural jack hammer riff augmented by electronic drum triggers and Goon Squad is an old-school slammer ala the Around The Fur era. Vega locks steps perfectly with Carpenter and Cunningham, creating one seismic rhythm section.
But it's the wistful melodic moments that lingers most (and bring to mind Moreno's side-project Team Sleep).
Entombed is serene shoegaze, with Carpenter's lilting hammer-ons meshing perfectly with Frank Delgado's symphonic keyboards. The title and lyrics seem to reference Cheng (who is now in a semi-conscious state). Moreno croons as if singing a heartsick lullaby; "When you arrived, I was right by your side/Shapes and colors are all I see".
The anthemic Rosemary is the album's climax; opening with languid delayed guitar followed by bottom heavy riffing, all leading up to a chill inducing chorus; "stay with me, as we cross the empty skies, come sail with me".
Koi No Yokan is a Japanese phrase meaning the sense upon first meeting a person that the two of you are going to fall into love. If you've never given this band a chance due to their unfair Nu-Metal association, now's the time. You just might fall in love with the Deftones in all their brutal and beautiful glory. And hardcore fans will be more enraptured than ever.
If you'd like to buy/preview 'Koi No Yokan' on iTunes check out the widget below, or you can click on the album image to get it on CD from Amazon. (And check out how it stacks up against my Best Albums of 2012).
And here's a nice article with Moreno from Spin Magazine. And you might also like my recent Soundgarden review, and my list of underrated guitar riffs.
[amazon_image id="B009ERK1T0″ link="true" target="_blank" size="medium" ]Koi No Yokan[/amazon_image]