Album Review: Bryan Ferry covers his own material on 'The Jazz Age' giving them a 1920's jazz-makeover.
Bryan Ferry has always embraced kitsch; early Roxy Music was full of wry humor and funky, overblown fashion.
And he's always enjoyed a good cover, putting his own stamp on material by such artists as John Lennon, Tim Buckley and Bob Dylan…to name but a few (check out my list on Best Cover Songs of All Time, featuring several Ferry/Roxy tunes)..
And he's covered jazz standards on albums 'Taxi' and 'As Time Goes By'.
But Ferry has now gone full-bore into jazz and is now covering……himself.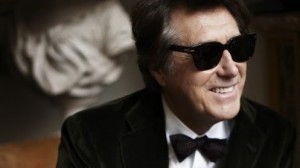 'The Jazz Age' takes a bevy of songs from his Roxy Music and solo catalogue and serves them up 1920's jazz style. 'Love Is The Drug' sounds like Dixieland played at a state fair, with horns bobbing alongside twangy banjos.
'Avalon' has a Bossa Nova kick, making you feel like you're hearing band music drifting into your imaginary tropical hotel room.
'Slave To Love' has a playful Big Band riff; I see visions of dapper couples swinging like crazy on a big ballroom floor.
There's a catch to this album though; he doesn't sing a note. I have no idea if he even plays an instrument on the album (it's credited to The Bryan Ferry Orchestra) .
'The Jazz Age' is hardly essential listening, and it's perilously close to a novelty album. But it's pretty fun and would make great background music for a subdued dinner party, quiet reflection or a romantic evening at home.
(Speaking of romance, check out my awesome Valentine's Day Playlist, featuring several Ferry/Roxy tunes).
If you're a Ferry loyalist or enjoy the tunes you hear on HBO's' Boardwalk Empire, give 'The Jazz Age' a whirl. It's a playful diversion until the next proper solo or (fingers crossed, Roxy Music) album comes along.
Want to preview/buy Bryan Ferry's The Jazz Age on iTunes or Amazon? I'll have links below. And you can buy the super cool Roxy Music Box Set by clicking here.
You can also stream the entire album on the Guardian's website.