7 Best John Carpenter Soundtracks: in anticipation of Carpenter's new album 'Lost Themes', we take a look back at his most iconic synth-laden film scores.
John Carpenter has the unique distinction of being one of the best directors and composers of the 70's and 80's.
His pioneering use of synthesizers to create taut hypnotic tension for his iconic horror and sci-fi films gave his work a unique atmospheric signature. Forever self-deprecating, he's downplayed his genius saying he did his own scores because he was fast and cheap, but that unfairly dismisses his unmistakable artistry. 
Regardless, he's influenced just as many musicians as he has filmmakers. Indeed, today's synth artists like The Chromatics, Kavinsky, Mike Simonetti and Xander Harris, remain deeply indebted to his stylings.
Carpenter is due to release his highly anticipated new album Lost Themes on February 3rd (on Sacred Bones Records). It's his first release not tied to any film project (I'll have a review up later this week).
In honor of his upcoming album, let's take a look back on his cinematic soundtracks that have made him beloved to fans of horror, sci-fi and of electronic music in general.
I've included Amazon and iTunes links for any score you'd like to add to your collection: just click the title (
highlighted in blue

) to preview/purchase on iTunes, or click the album art for Amazon (I've also included Amazon links to deluxe vinyl reissues from Death Waltz and Mondo at the conclusion of the list)

Here's our list of his 7 best scores:

Christine is the most workmanlike Carpenter film. The Stephen King adaptation felt like a hired hand assignment. That being said, the score is top-notch, with a catchy-yet-creepy main theme that comes on fast and furious in the track Moochie's Death, and slow and tortuous in the track Buddy's Death.

Add in some gothic chill (The Rape) and the sorrowful Junkins and you end up with a score stronger then the film it was made for.

Prince may be one of Carpenter's most polarizing pictures (I love it, for what its worth), but everyone can agree that its one of his most memorable scores, full of Goth pomposity and occult menace, most notable on the main title/end credits and the apocalyptically chilly Bug Man.

Carpenter's eerie coastal, pirate ghost story is an understated gem full of atmospheric appeal. His electronic score adds to the ethereal chill immensely, from the haunting piano and metronome clicking dread of the title theme to the eerie piano of Tommy Tells of Ghost Ships, and the skull rattling sonic attack of Reel 9.

When Carpenter met fellow composer/sound designer Alan Howarth, it marked new diversity in the filmmaker's sonic aesthetic. His simple compositions gained more textural complexity, and he also began scoring for the screen, no longer shoehorning pre-recorded tracks.

The staccato synth-plod title theme, the eerie ambulatory Orientation # 2, the nightmarish The Crazies Come Out, and the cowbell stomp of  The Duke Arrives/The Barricade, all encapsulate the nocturnal dystopia that anti-hero Snake Plissken must endure to save the president from the seedy NYC prison state, and survive in the process.

But the most adventurous track has to be Chase Across the 69th Street Bridge, which combines Giorgio Moroder-esque disco synths and Jamaican drum percussion culminating in a piece that's as tense as it is danceable.
3. Assault On Precinct 13 
Countless electronic music enthusiasts were influenced by Carpenter's supremely ominous score for his first theatrical release, Assault on Precinct 13. The title theme feels futuristic with its inventive ferris wheel electronic drums and a death-march keyboard melody, all augmented with a ghostly, warbly wail.
That seasick siren wail reappears front and center on the ominous Sanctuary. The track Julie, provides a nice counterpoint, with melancholy Rhodes piano that briefly cuts through the tension between gangster attacks.
Carpenter only made two scores for films he didn't direct himself. Halloween II would be the first, where he simply took the original score, and replaced the piano parts with an organ synthesizer.
But Halloween III: Season of the Witch, remains an underrated score for an equally underrated film.
It shares its diverse sonic landscape with Escape From New York, featuring radically different textures and styles: the opening title theme sounds like an alarm clock from hell, and Chariots of Pumpkins oscillating wash of synths adds greatly to its adjacent chase scene.
There are also moments of quieter horror: Hello Grandma, Local Boy No Way, as well as unrelenting aural panic attacks like First Chase and Challis Escapes. Many tracks feature Carpenter's patented stingers or cattle prods, those sharp electronic jabs meant to evoke jump scares. And lets not forget the Silver Shamrock theme song shall we?
A score so iconic that it instantly brings to mind images of Jamie Lee Curtis fleeing from a masked psychopath. The genius of the main Halloween theme is its 5/4 odd time signature, (which Carpenter originally learned to play on bongos) transposed to haunting piano. It's an unrelenting ear worm that causes your hair to stand on end with minimal effort.
There's more to the score than the title theme though: Laurie's Theme is a wonderful bit of somber creepiness, and The Shape Lurks/Stalks is simply chilling, where a simple two-note piano figure marries to cheese grater percussion that perfectly approximates a lumbering Michael Myers endlessly fixated on killing his sister.
Honorable Mention: The Thing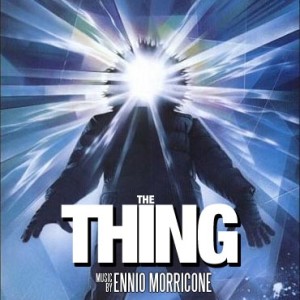 Given that the score for this sci-fi/horror classic is officially credited to great Italian composer Ennio Morricone, I couldn't technically include it on this list. BUT: it deserves honorable mention due to Carpenter's admission he snuck in the dark soundscape Fuchs as well  as Humanity Part 2. That's the main theme played throughout the film, whose heartbeat percussion and funereal organ inform the dreadful mood of Carpenter's finest film. So there.
Other scores worth a listen: Big Trouble In Little China, Halloween II, They Live
So that wraps up our list of the 7 best John Carpenter Soundtracks. Agree? Feel compelled to make your own list of your favorite scores? Tell us in the comments.
And you can pre-order John Carpenter's new release Lost Themes via the link below.
DEATH WALTZ/MONDO DELUXE VINYL REISSUES: