This is Part 2 of our list of  the 40 Most Underrated Alternative Rock Albums Of All Time.
Click here to read Part One to see what's already been covered and to read the criteria for which albums made the cut.
If you'd like to buy/preview any of the albums discussed, clicking on the album image will take you to Amazon, and clicking on the album title (highlighted in blue) will take you to iTunes (where available).
Now back to the countdown!
The Afghan Whigs were always underrated, but their album Gentlemen impressed fans and critics alike. Unfortunately their follow-up Black Love bombed due to poor marketing. It's the musical equivalent of film noir, with Greg Dulli's cinematic lyrics and the band's soulful riffing painting a bleak yet mesmerizing picture.
Standout tracks: Blame, Etc, Step Into The Light, Going To Town, Night By Candlelight
28. Instinct – Iggy Pop (1988)
Iggy Pop is renown as one of the godfathers of punk, but Instinct was a critical and commercial dud. But it features some of his hardest-rocking tracks augmented by killer riffs from Sex Pistols guitarist Steve Jones.
Standout tracks: Instinct, Cold Metal, High On You, Squarehead, Power And Freedom
Arcadia was the side project of Duran Duran's Simon Le Bon and Nick Rhodes. Their sole album was a modest hit but has faded from their musical legacy. But its dark romantic vibe and killer hooks rivals anything in Duran Duran's catalogue , featuring collaborations with Grace Jones, Sting and David Gilmour.
Standout tracks: Election Day, The Promise, El Diablo, Goodbye Is Forever, Lady Ice
After the success of  Psalm 69, the future seemed bright for Ministry. But Al Jourgensen's drug addiction hobbled their progress. When Filth Pig finally emerged fans didn't like the band's transition from industrial jack hammer riffs to sludgy Sabbath tempos. But it features some killer riffing (and a Bob Dylan's cover!)
Standout tracks: Dead Guy, Lay Lady Lay, Game Show, The Fall
Conventional wisdom says that once Nick Oliveri got kicked out of QOTSA, they lost their mojo and went soft. That's utter bullshit. Sure Lullabies To Paralyze wasn't as pummeling as earlier releases, but Josh Homme and co. explored weirder, darker textures, and it rewards with repeat listens.
Standout tracks: Medication, Burn The Witch, I Never Came, Little Sister, Long Slow Goodbye
After years of obscurity, Monster Magnet had a hit with 1998's Spacelord and their Powertrip album went gold. But the follow-up God Says No was poorly promoted as they didn't fit in with the then popular Nu-Metal scene.
I'll never forget hearing a local radio station's make it or break it contest pitting their barn-burning track Heads Explode against Mudvayne's Dig. My heart sank as call after call radio listeners voted for Mudvayne. Ugh!
But it's my personal favorite Monster Magnet album, full of sludge rockers, techno experiments and quirky psychedelia.
Standout tracks: Heads Explode, Cry, All Shook Out, Queen of You
David Bowie's noise rock band was met with critical and commercial derision. But their sonic squall anthems deserved better recognition. Refreshingly it's getting decent exposure on the David Bowie channel currently playing on Sirius XM.
Standout tracks: Under The Gun, Heaven's In Here, Crack City, Tin Machine
22. Beautiful Garbage – Garbage (2001)
Garbage went for broke with their third album, which melded 60's pop, slinky R&B, and dream pop. It sold less than their previous albums, but it's their most diverse and richest work.
Standout tracks: Cup Of Coffee, Cherry Lips (Go Baby Go), Parade, Drive You Home
Slowdive were slandered as Dream-pop wannabes. But critics missed the point;  They were more concerned with haunting melody, and owed just as much (if not more) of their sound to goth and jangle pop. And their début Just For A Day is a transfixing oasis of sonic richness.
Standout tracks: Spanish Air, Catch The Breeze, Brighter, The Sadman
20. Danzig 4 – Danzig (1994)
Okay some will say Danzig isn't alternative; but on Danzig 4, he ventured into industrial and experimental tones. But his fan-base missed his old sound, and it performed below expectations. But it's his best album, where he goes darker and weirder than ever before, and his often cartoonish evil persona actually felt convincing here.
Standout tracks; Cantspeak, Going Down To Die, Bringer of Death, Dominion
19. TIE:  Zooropa(1993) /Pop – U2 (1997)
After their experimental triumph Achtung Baby, U2 were emboldened to keep pushing the envelope, but these 2 follow-up albums suffered from critical backlash and over exposure. Both are ripe for reappraisal; Zooropa is a quirky textural freak out, and Pop's dance elements are tempered by melancholic irony.
Standout tracks (Zooropa) : Numb, Dirty Day, Stay, Some Days Are Better Than Others, The Wanderer
Standout tracks (Pop) : Mofo, Miami, Please, Staring At The Sun
18. A Northern Soul – The Verve (1995)
The Verve are best known for Urban Hymns, fearing Bittersweet Symphony. But earlier release A Northern Soul is equally alluring with atmospheric gems like Stormy Clouds and Drive You Home.
Standout tracks: A New Decade, Stormy Clouds, Drive You Home, History, This Is Music
17. The Fragile – Nine Inch Nails (1999)
The Fragile debuted at #1 on the Billboard charts, but it set a record for the biggest fall from the top spot a week later. While reviews were kind, the double album proved too much for some NIN fans to absorb, and many felt it fell short of previous album The Downward Spiral.
And while Reznor will never top that masterpiece, The Fragile is a deeply textured and fascinating listen. Luckily he's re-embracing The Fragile on his current tour.
Standout tracks: Somewhat Damaged, We're In This Together Now, No You Don't, The Great Below, Into The Void, Complication, Starfucker's, Inc.
Honey's Dead gets all the love, but JAMC's follow-ups are just as good. Darklands is a more stripped down affair, but it shows their song craft isn't dependent on fuzz-bombed soundscapes. And Automatic is a perfect fusion of dance beats and glorious noise. (I also think Honey's Dead deserved better too).
Standout tracks (from Darklands): Happy When It Rains, Nine Million Rainy Days, April Skies, About You
Standout tracks (Automatic): Here Comes Alice, Head On, Blues From A Gun, Between Planets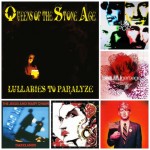 Alright folks, that wraps up Part 2 of the most Underrated Alternative Albums. Click here to the Top 15!