40 Most Underrated Alternative Rock Albums Part 1: Counting down some of the best alt-rock records that never got their due.
Declaring an album underrated is always subjective, but it seems Alternative Rock is a genre where some truly great albums often fall through the cracks.
The reason is simple; when you have an all umbrella term encompassing  Punk, Grunge, Goth, Britpop and Industrial (to name but a few), there's just not enough room for every great album to get a fair shake.
And fans can be fickle; if an artist tries a bold, new direction they risk the ire of alt-rock and indie fans whose obsession with musical taste sometimes lends itself to snarky dismissiveness.
With this in mind, I've picked 40 alternative rock albums that IMHO are truly underrated.
Again this is subjective (as is the term alternative rock; you may not agree with some of my classifications), but here's my criteria for albums listed:
it got critical acclaim but was a commercial dud.
it was a commercial hit but a critical dud.
it failed on both counts.
it was ahead of its time (or unfashionable) upon its release.
it preceded a more successful breakthrough album, and often unknown to fan-base at large.
it marked the beginning of an ongoing commercial decline for established artists of large to mid-level stature.
If you'd like to own any of these gems, clicking on the album image will take you to Amazon, and clicking on the album title (
highlighted in blue

) will take you to iTunes (where available). We get a percentage of each album/song sold, so thanks in advance if you choose to do so!

So now that I've gotten the ground rules out-of-the-way, let's get started:
40. Euphoria Morning – Chris Cornell(1999)
[amazon_image id="B001NYPNFY" link="true" target="_blank" size="medium" ]Euphoria Morning[/amazon_image]
Fans just weren't ready for Chris Cornell's mellow solo outing in the wake of the Soundgarden break-up. But it has great melodic tunes with a Radiohead-ish melancholy. It's commercial disappointment made him unsure and misguided in its wake (see the Timbaland produced Scream Yikes.)
Standout tracks; Going To Change The World, Flutter Girl, Steel Rain, Preaching The End of The World
39. Devil's Playground – Billy Idol (2005)
Billy Idol kept quiet for 12 years after his Cyberpunk album tanked (also unfairly derided). He returned with Devil's Playground but it was met with commercial and critical indifference.  But if offers several rocking tracks and features Summer Running, one of his best ballads to date.
Standout Tracks: Sherri, Rat Race, Summer Running
[amazon_image id="B000002HJA" link="true" target="_blank" size="medium" ]And the Circus Leaves Town[/amazon_image]
Kyuss were unappreciated from the get-go but their final album was their biggest commercial and critical flop. But with sludgy, stoner rockers like One-Inch Man what's not to love?
Standout tracks: One-Inch Man, Hurricane, Tangy Zizzle, Jumbo Blimp Jumbo
37. Never Never Land-UNKLE (2003)
[amazon_image id="B0002VEPB2″ link="true" target="_blank" size="medium" ]Never Never Land[/amazon_image]
Unkle's début album Psyence Fiction  teamed DJ Shadow and Richard Lavelle with a variety of collaborators, most notably Thom Yorke on Rabbit In Your Headlights.
Lavelle drafted in producer Richard File for Never Never Land, a superior follow-up featuring Josh Homme, Jarvis Cocker, Ian Brown, and Massive Attack's 3-D to name but a few. But by 2003, interest in electronica had waned and it was largely ignored. They had a slight comeback with 2007's War Stories, but Never remains their best.
Standout tracks: In A State, Reign, Safe In Mind, I Need Something Stronger, Invasion
[amazon_image id="B0013AWVHG" link="true" target="_blank" size="medium" ]Stain[/amazon_image]
Living Colour ditched their day-glow psychedelia for Stain, and made their heaviest and most experimental album to date. It was a commercial disappointment and they broke up soon after (they've since reformed).
Standout tracks: Auslander, Nothingness, Go Away, Postman
35. Evil Heat – Primal Scream (2002)
[amazon_image id="B000069LFZ" link="true" target="_blank" size="medium" ]Evil Heat[/amazon_image]
Primal Scream have always had an on-again off-again relationship with fans and critics because they careen from classic rock riffing to electronic freak outs. Their album XTRMNR fused all these elements together to great acclaim, but the follow-up Evil Heat never got the same attention. But it's just as killer, featuring moments of white noise, industrial stomp and krautrock groove:
Standout tracks: Miss Lucifer, Autobahn 66, Detroit, Space Blues #2
[amazon_image id="B00008FN1Y" link="true" target="_blank" size="medium" ]Holy Smoke[/amazon_image][amazon_image id="B000063IV4″ link="true" target="_blank" size="medium" ]Dust[/amazon_image]
In 1989, former Bauhaus vocalist Peter Murphy was riding high off his breakthrough album Deep, which went gold thanks to megahit Cuts You Up.
Three years later he followed it up with Holy Smoke, an album that introduced middle eastern textures into his sound. Unfortunately it was unfashionable in the wake of grunge and sold poorly.
Murphy again defied convention in 2002 with Dust, an album that absorbed the sounds of his adopted country Turkey. Fans were confused by its complete departure from rock music, but it's his most gorgeous work.
Hopefully his newest album will prove he's more than just a tawdry headline. But this is just tacky.
Standout tracks (Holy Smoke) : Keep Me From Harm, Low Room, Let Me Love You, Our Secret Garden
Standout tracks (Dust): Things To Remember, No Home Without Its Sire, Just For Love
33. Hot Trip To Heaven-Love And Rockets  (1994)
[amazon_image id="B000S5AHCS" link="true" target="_blank" size="medium" ]Hot Trip To Heaven[/amazon_image]
Love and Rockets abandoned their psychedelic sound for Hot Trip To Heaven, which was heavily influenced by 90's ambient techno. The album did so poorly that they were dropped from their record label. But Hot Trip To Heaven is a beautiful hypnotic piece of work.
Standout tracks: Trip and Glide, This Heaven, Body And Soul, Ugly, Voodoo Baby
[amazon_image id="B000XO2R22″ link="true" target="_blank" size="medium" ]Sea Change[/amazon_image]
Beck shed his ironic lyrics and quirky samples for Sea Change, which had him at his most emotionally vulnerable and musically subdued. He chronicled a failed relationship with lush textures.
Sea Change was a modest hit, but fans expecting funky tracks were less enthused. For my money it's the only Beck album that I care to listen to.
Standout tracks: The Golden Age, Guess I'm Doing Fine, Lonesome Tear, Sunday Sun

Bowie embraced techno as well as his glam rock roots with Earthling, and while it scored a minor hit with I'm Afraid Of Americans, it was one of his poorest selling records to date, and critical reception was mixed (as is always the case when a veteran musicians tries on a new musical taste). But its overall a very strong effort and his best release of the 90's.
Standout tracks: I'm Afraid Of Americans, Little Wonder, Dead Man Walking, Telling Lies
[amazon_image id="B000002HP1″ link="true" target="_blank" size="medium" ]Animal Rights[/amazon_image]
The techno pioneer all but ditched his signature sound for Animal Rights, which varied from punk and metal to more serene organic ambient textures.
Moby seemed to know he was making a difficult album, saying in the liner notes; please listen to Animal Rights in its entirety at least once. But this was an album that needed multiple listens to fully appreciate.
After it bombed, he began questioning his musical future.
But then he made multi-platinum album Play, so don't feel too sorry for him. Regardless Animal Rights rocks, even if it's incongruous to his overall body of work.
Standout tracks: Someone To Love, Come On Baby,  Alone, Old, Dead Sun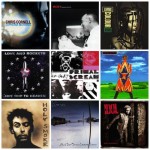 So that wraps up the first installment of the 40 Most Underrated Alternative Rock Albums. Click here for Part 2.
You might also enjoy these other underrated lists: