35 Albums Turning 25 in 2017: The Best Albums of 1992: a list of the best alternative, metal, hip-hop, indie and experimental releases from 1992.
Last year I boldly declared that 1991 was the best musical year of the 90's. And I still stand by that. But by damn, 1992 is a very close second.
Whereas 1991 saw the release of iconic albums like Nirvana's Nevermind, Pearl Jam's Ten and My Bloody Valentine's Loveless, 1992 saw record companies building on their success: willing to take bigger risks from left-of-center artists.
As a result MTV and radio were insatiable for the next big alt-rock, metal, hip-hop sensation of the moment, and the ratio of great to shit was surprisingly solid. To say many of these albums were the soundtrack of my youth is a cliché–but it doesn't make it any less true.
It's in honor of those releases, all of which turn 25 this year (yes, I feel old too), that this list is dedicated.
Ranking this was agonizing–and I say that knowing full well I said the same thing about the lists I made for 1987, 1991 and 1997. As always, these lists come down to personal taste, critical and commercial hits, and a desire to cover both the heavyweights and the underdogs. It's a tricky balance, so your mileage may vary. But here are the results.
In the name of streamlining, I'm not including EP's, so the three classics below won't make the list. But I wanted to give them a shout out all the same.
At the conclusion I'll have a list of honorable mentions, because 1992 was just too overstuffed with goodness to confine to 35 entries.
If you want to own any of these, just click on the album image to head over to Amazon.
Off we go!
35. Peter Murphy Holy Smoke
Bauhaus frontman Peter Murphy hit the mainstream with 1989's Deep, powered by the hit single Cuts You Up. Unfortunately his Post-punk/New Wave/World Music sound went out of fashion thanks to grunge. Be that as it may, 92's Holy Smoke is an engaging release, featuring exotic tracks like Kill The Hate and anthemic dance tracks like You're So Close.
34. Body Count Body Count
Ice-T put his hip-hop career on hold to explore his love of metal, and the underrated self-titled début from his group Body Count was a raucous delight, full of humorous, foul-mouthed tracks like KKK Bitch and Evil Dick, while probing racial tension in songs like Bowels of the Devil and There Goes The Neighborhood.
But it was Cop Killer that proved the most controversial, a fever dream tale of a psychopath obsessed with taking down law enforcement. Ice-T weathered a storm of criticism from police unions and even Charlton Heston, accusing him of condoning violence against police. The rapper claimed it was simply a song from the perspective of an imaginary character–the musical version of a slasher film. His music career would never fully recover from the fallout.
The irony would not be lost on the rapper when took a role as a cop on Law and Order, but he still performs the song to this day.
33: TIE: Lush Spooky/The Sundays Blind

Two blissful dream-pop albums so good it was impossible to choose. In one corner: Lush who continued their combo of dream-pop, shoegaze and post-punk on songs like Undertow (with the aid of producer Robin Guthrie of the Cocteau Twins). In the other, The Sundays, who managed to wed the melancholy and blissful thanks to the heavenly pipes of Harriet Wheeler. Just listen to Blind to see what I mean.
32. Arrested Development

3 Years 5 Months & 2 Days in the Life of…



The 90's saw the brief reign of alternative hip-hop, featuring inventive sampling and socially conscious lyrics, and Arrested Development were one of the best of the bunch. 3, Years, 5 Months is an accomplished début, and tracks like Tennessee and People Everyday were both upbeat yet informed.
Possessing a wisdom that belied their years, 3 Years was a welcome and diverse entry in the genre.
31. Danzig Danzig III: How The Gods Kill

On Danzig's 3rd solo album, the cantankerous frontman continues to channel his love of Elvis, The Doors, Black Sabbath (and Satan) on tracks like Godless, Sistinas, Dirty Black Summer and the classic title track.
30. Screaming Trees Sweet Oblivion

Screaming Trees are one of those Seattle bands that get name-checked a bunch, but never got their full due, and Sweet Oblivion was the crown jewel of their discography. Mark Lanegan's granulated, whisky soaked delivery made him one of the most distinctive vocalists from the era, and songs like Nearly Lost You, Dollar Bill and Julie Paradise showed how the group's more subtle approach differentiated themselves from their peers.
29. TIE: Curve Doppelganger/Ride Going Blank Again

1992 saw Shoegaze evolve, with Curve and Ride leading the charge. Curve combined feedback, electronics and dance beats with sublime effect on Doppelganger, creating a formula that Garbage would liberally borrow from a few years later.
Ride on the other hand toned down the walls of feedback in favor of a more understated approach that embraced power-pop and 60's psych. Both albums are essential listening for fans of the genre.
28. TIE: Helmet Meantime/White Zombie La Sexorcisto: Devil Music Volume 1.

Two NYC alternative metal acts released albums of equal merit. Helmet blended staccato riffs with jazzy dissonance on tunes like Unsung and In the Meantime, while White Zombie abandoned their noise rock roots for a groove metal/industrial hybrid infused with horror movie samples on classics like Thunderkiss '65 and Black Sunshine.
27. Stone Temple Pilots Core

STP got a lot of shit when Core came out in 1992: critics and alt-rock fans claimed they were ripping off grunge acts like Pearl Jam and Alice in Chains. They didn't have any street cred to say the least. And to be honest, some of this criticism was deserved. Originality was not their strong suit.
But so what? When you make singles as catchy as Plush, Sex Type Thing, Wicked Garden and Creep alongside deep cuts like Dead and Bloated and Crackerman, I say you get a pass. If it rocks, it rocks, even if it doesn't reinvent the wheel.
Core is a solid album with scarce filler, and STP deserved all their success, and the millions of listeners who kept open minds have been proven right over the years, with the late Scott Weiland correctly remembered as one of the finest voices of the era.
26. Ween Pure Guava

Ween's third album was a perverse delight that showcased the duo in all their weird and warped glory. Push The Little Daisies got them some MTV airplay, while songs like Poopship Destroyer and Touch My Tooter were delightfully sophomoric. And the Bowie-esque Don't Get To Close (To My Fantasy) and Sarah showed the group's burgeoning musicianship that would continue to evolve on 1994's Chocolate and Cheese.
25. Morrissey Your Arsenal

Morrissey's best solo album saw Moz indulging his love of glam rock–with late Bowie guitarist assuming production duties. Glamorous Glue was the most notable example, buoyed by a gloriously decadent guitar riff. Elsewhere he tossed off acidic witty bon mots on chestnuts like You're the One For Me Fatty, and We Hate It When Our Friends Become Successful.
Oddly enough, this album doesn't get name-checked much anymore, but it'd be best for Morrissey fans and celebrate his heyday rather than indulge in his modern day dilemmas.
24. Spiritualized Laser Guided Melodies

The début album from Jason Pierce's space rock ensemble is a blissful masterpiece–full of tranquil, gossamer textures, diffuse guitar, soothing pastoral soundscapes and cooing vocals. It may not match the heights of their 1997 classic Ladies and Gentlemen We Are Floating in Space, but it comes pretty damn close.
23. The Jesus and Mary Chain Honey's Dead

The album's title made one thing clear: JAMC were ready to move from their iconic 80's sound, and Honey's Dead was a successful departure: sure it kept their trademark noise intact, but with a beefier alt-rock sound and dance beats influenced by the burgeoning electronica scene. It might not be as well celebrated as Psychocandy, but it still holds up nicely.
22. Beastie Boys Check Your Head

The band's follow-up to their critically acclaimed but commercially ignored Paul's Boutique kept their edge–showcasing their hip-hop roots while also embracing the rough-hewn alternative rock sound of the day. As a result its one of their most eclectic albums as hits like Pass The Mic and So What'cha Want and deep cuts like Namaste will attest.
21. Sonic Youth Dirty

Noise rock icons Sonic Youth broke free of college rock restraints on Dirty, an album that gave them some major label success that would have been impossible pre-Nevermind. The band even employed the same producer (Butch Vig) for Dirty, but their identity was still fully intact.
For a group normally content to let their guitar rocket do the talking, Dirty was a confessional, confrontational album: 100 Percent dealt with the murder of a friend, while Youth Against Fascism (featuring Fugazi's Ian McKaye) got political: "I believe Anita Hill." At 15 tracks, Dirty was long, even by overstuffed 90's albums standards, but it never felt gratuitous.
20. Dr. Dre The Chronic

One of the most influential hip-hop albums of all time, The Chronic cemented Dr. Dre's reputation as one of the genre's finest producers, while also launching the career of Snoop Dogg. Using slower, syrupy rhythms that were unusual for the times, Dre became his own cottage industry, and The Chronic sounds as fresh today as it did upon its release.
19. The Cure Wish

Wish proved a deeply polarizing album for Cure fans, who were mainly flummoxed by the pop hit Friday I'm In Love–as if the group hadn't made a pop song before? Gimme a break.
Wish is an accomplished effort, blending dark, brooding goth (Apart, Open, From The Edge of the Deep Green Sea) with sun-dappled pop (Friday, High, Doing The Unstuck). It's only cardinal sin is it had to follow Disintegration, one of the best albums ever made. How could it not fall short? Because of this it's become somewhat dismissed, which is agitating.
18. Sade Love Deluxe

Sade's greatest album wasn't critically lauded upon its release–deemed too atmospheric and listless, and lacking melodic hooks. This was a stupid assessment, because its one of the great slow-burn albums ever, and a must-have in anyone's bedroom collection. No Ordinary Love, Cherish The Day, Kiss of Life–what's not to love–deluxe?
17. Pavement Slanted and Enchanted

Full disclosure: I do not like Pavement. I can't exactly quantify it–but it hits that indie snobbery sweet spot that makes my eyes roll. That being said, a lot of people love this album, it was very acclaimed and I would get shit for not including it. But I do so begrudgingly. You're welcome!
16. Kyuss Blues For The Red Sun

An album that helped birth the stoner and desert rock scene, Blues For The Red Sun was a beast of a record, full of low-tuned riff-monsters like Green Machine and Thumb, powered by John Garcia's unholy howl and Brant Bjork and Josh Homme (of QOTSA fame) guttural guitars.
Despite being a commercial disappointment upon its release, Blue Sun is now seen as one of the most influential metal albums of the decade.
15. Pantera A Vulgar Display of Power

Vulgar Display of Power saw Dallas's Pantera fully evolve into their own sound–a mix of Texas swing, Sabbath howl and contemporary groove and thrash. Producer Terry Date captured Dimebag Darrel's muscular, textured riffs in all their deep-fried glory, and tracks like Mouth For War, Walk and Fucking Hostile remain immortal as a result.
14. Chainsaw Kittens Flipped Out in Singapore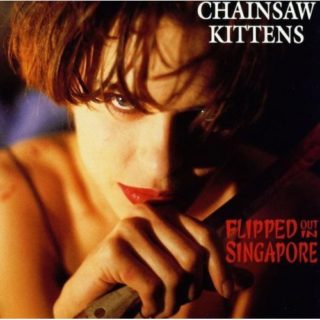 The Chainsaw Kittens should have owned 1992. Flipped Out in Singapore (yet another great album produced by Butch Vig) was a glorious concoction mixing 70's glam, 80's New Wave and 90's alt-rock to sublime effect on tunes like Connie I've Found The Door and High in High School. While they didn't hit the big time, everyone that heard that album became a fan for life,
For anyone unfamiliar, wondering why I have this album so high on the list, just give the album a listen and discover your new (old) favorite band.
13. Nick Cave & The Bad Seeds Henry's Dream

Although oft-derided by Cave himself (mostly for production issues) Henry's Dream is a fave for Cave fans, with a solid set of songs awash in his patented melodrama obsessed with love, sex, religion and death.
12. Prince The Love Symbol Album

Before Prince reclaimed his name, became a Jehovah's Witness and went chaste, he gave us the Love Symbol album, featuring radio staples like 7 and The Morning Papers, and raunchy classic like Sexy M.F. An overall more upbeat and uptempo record than 1991's excellent Diamonds and Pearls, it proved His Purple Majesty refused to be an 80's relic.
11. Leonard Cohen The Future

A dour, sparse, and unrelenting effort, The Future is one of the late Leonard Cohen's most caustic yet beautiful releases, shining a harsh light on the human condition. Waiting For The Miracle, Democracy and The Title track somehow manage to be sorrowful yet comforting all at once. Its the musical equivalent of Morgan Freeman's quote from Se7en: Ernest Hemingway once wrote, "The world is a fine place and worth fighting for." I agree with the second part.
10. PJ Harvey Dry

P.J. Harvey's début may lack the multi-layered dynamics of later albums, but it's that very harshness that made it so revelatory upon its release. A harrowing collection of songs combining elements of indie, alternative, punk, and blues, it's an electrifying experience.
Harvey noted the album's intensity, saying 'Dry' is the first chance I ever had to make a record and I thought it would be my last. So, I put everything I had into it. It was a very extreme record. It was a great joy for me to be able to make it. I never thought I'd have that opportunity, so I felt like I had to get everything on it as well as I possibly could, because it was probably my only chance. It felt very extreme for that reason. Mission accomplished.
9. Ministry Psalm 69: The Way to Succeed & The Way to Suck Eggs

Psalm 69 was Ministry's magnum opus, the ultimate fever dream marrying thrash guitars, dance beats and post-apocalyptic industrial soundscapes. The fact that songs like Jesus Built My Hotrod and N.W.O. gained radio play shows just much the musical landscape had changed at the time. And deep cuts like Scarecrow and Grace are the aural equivalent of a nightmare.
8. Singles Soundtrack

An album that defined a generation–Singles is a sonic snapshot of the Seattle sound, featuring both its biggest exports (Alice in Chains, Pearl Jam, Chris Cornell/Soundgarden) to cult artists (Mother Love Bone and Mudhoney), while also celebrating elder statesmen (and women) including Heart and Hendrix.
Not every act hailed from the rainy metropolis (Smashing Pumpkins, Paul Westerberg) but it all represented Generation X's coming of age. The soundtrack is now far better remembered then the film it chronicled, and is decidedly more melancholy, given the loss of Andrew Wood, Layne Staley, and Chris Cornell.
7. Rage Against The Machine Rage Against The Machine

It's safe to say no band blended agitprop politics and musical furor (and hip-hop and metal) as effectively in the 90's as RATM. Tom Morello's mad scientist guitar tones and seismic riffs proved the perfect foil for Zach de la Rocha's confrontational lyrics. Songs like Bombtrack, Killing in The Name and Freedom may have been written over two decades ago, but its unholy, er, um, rage still feels frighteningly and deservedly current.
6. Sugar Copper Blue

Following the breakup of Hüsker Dü and two solo albums, Bob Mould reemerged with the rock trio Sugar, and their début album Copper Blue was one of the most acclaimed releases of 1992. Continuing his use of buzzsaw guitar textures, but allowed for more use of melody and vocal harmonies. The album also featured some of Mould's most insightful lyrics, particularly on the haunting track The Slim, written from the perspective of someone losing a lover to AIDS.
5. R.E.M. Automatic For The People

Regarded by both the band and most critics as their finest hour, Automatic For The People saw R.E.M. attain iconic status as one of the preeminent bands of their generation. The album was chock full of deep cuts (Sweetness Follows, Star me Kitten) and hit singles (Drive, Man in the Moon, Nightswimming). And then there's Everybody Hurts, an anthem of empathy that still packs an emotional punch.
4.The Church Priest=Aura

Priest=Aura is the veteran Australian psychedelic rockers finest album, but it went largely ignored upon its release–suffering the same misfortune many acts who gained fame in the 80's faced in the wake of grunge. But fans knew better: the expansive sound on epics like Aura, Ripple, Feel and Chaos is both majestic and illusive, conjuring a dream state like no other. And unlike so many 90's alt-rockers whose career has fizzled, The Church continue to play at the top of their game.
3. Alice in Chains Dirt

Has any album ever been as nakedly bathed in sorrow and pain as Alice in Chains sophomore album? Whereas Nirvana and Soundgarden shrouded their depression and angst in metaphor–Alice were just as content to let it all hang out. Junkhead, Godsmack, Sickman and Rain When I Die all told the same sad story: that vocalist Layne Staley was in the fight of his life with addiction. And his odds weren't looking good.
And even the Jerry Cantrell-penned tracks kept the narrative theme: Them Bones was a meditation on mortality, while Rooster documented his father's harrowing tour in Vietnam. Dirt may not be a feel-good album, but it is a cathartic one for fans, and a devastating sonic eulogy for its frontman.
2.Aphex Twin Selected Ambient Works 85–92
Richard D. James ambient début remains as alien and elastic as it was on its initial release. A work predating the rise of electronica in Britain (and lesser so in the U.S.) he invented an inventive, textural update on Brian Eno's ambient template, adding elements of IDM, quirky samples (including soundbites from Willy Wonka and Robocop) and everything else conjured from his inventive imagination.
The result is an album, that despite its crude production, has influenced everyone from Kanye West to Radiohead to Die Antwoord.
1. Faith No More Angel Dust
I recently went into great detail on why Angel Dust is both Faith No More's finest album and one of the best of the 90's, but to summarize: FNM did the unthinkable, flipping the bird to their newfound commercial success by delivering a record that sounded miles apart from their 1989 smash The Real Thing.
Gone were rap-rock anthems like Epic, and in its place was everything from caustic metal (Jizzlobber, Malpractice), understated anthems (Midlife Crisis), 70's funk (Crack Hitler) and even a cover of a classic film theme (Midnight Cowboy). Vocalist Mike Patton became the man of a 1000 voices, proving himself one of the best vocalist of the decade (and all time).
While only a modest commercial success, and a polarizing one for critics, Angel Dust has aged admirably, because nothing else has sounded like it before or since.
Honorable Mentions (in no particular order):
Tom Waits Bone Machine
NIN Broken
Alice in Chains Sap
Tool Opiate
Sleep Holy Mountain
Warrior Soul Salutations from the Ghetto Nation
L7 Bricks Are Heavy
Tori Amos Little Earthquakes
Young Gods TV Sky
The Lemonheads It's A Shame About Ray
Blind Melon
The Orb U.F. Orb
Black Crowes The Southern Harmony and Musical Companion
Lou Reed Magic and Loss
Neil Young Harvest Moon
Cool World Soundtrack
Twin Peaks: FWWM Soundtrack
Peter Gabriel Us
Soul Asylum Grave Dancers Union
Annie Lennox Diva
Pharcyde Bizarre Ride II the Pharcyde
Brian Eno Nerve Net
Ice Cube The Predator
Jayhawks Hollywood Town Hall
The Afghan Whigs Congregation
Well that wraps up my list of the best albums of 1992! What are your favorite releases from that year? How would your ranking differ? Let me know in the comments! And be sure to check out my lists of the best albums of 1987, 1991, and 1997.