Top 21 Best Alternative Rock Compilation Albums: the most essential greatest hits, B-side collection and rarities compilations in alt-rock.
This month two classic 1985 compilation albums turn 30: 'Catching up with Depeche Mode' (on Nov.11th) and Echo & The Bunnymen's 'Songs to Learn and Sing' (Nov. 15th).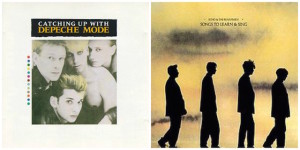 That got me thinking: in some cases, greatest hits collections, non-album single comps, and b-side/rarities albums aren't just cash grabs. Sometimes they're an essential part of an artists discography, and alternative acts have benefited from the compilation format in particular.
With that in mind here's my ultimate ranking for the best compilation albums from Alternative artists in the sub-genres of new wave, grunge, goth, punk, Britpop and more.
In the interest of conciseness, I'm not including box sets, limiting entries to single or double albums.
If you'd like to own any of these classics on Amazon, simply click on the album image.
Without further ado…
21. The Psychedelic Furs 'All of This and Nothing' (1988)
While the Furs are best known for their poppy singles, they also have wonderfully moody deep cuts, and 'All of This' does a fine of job of balancing the two, with mainstays like 'Pretty and Pink', 'Heaven,' and 'Love My Way' fitting in quite nicely alongside lesser-known material like 'Sister Europe' and 'President Gas.' And the lone original song 'All That Money Wants' is a catchy, perfect addition.
20. Faith No More 'Who Cares A Lot' (1998)
There are several FNM best-of albums out there, but 'Who Cares' mixes hits like 'Epic' and 'Midlife Crisis' with memorable covers (The Commodore's 'Easy', 'The Bee Gees 'I Started A Joke') and previously unreleased oddities like 'Hippie Jam Song.'
Plus it contains 'We Care A Lot' and 'Introduce Yourself,' the two essential songs from the Chuck Mosley era.
19. The Cult 'Pure Cult: The Singles 1984–1995' (2000)
The third, and best Cult compilation, mixes hits like 'She Sells Sanctuary' and 'Love Removal Machine' in random order, while placing the essential rarity 'In The Clouds' smack dab in the middle.
I doubt you'll find another hits collection which shows such radically different shifts in style, be it Goth ('Dreamtime'), cock rock ('Fire Woman'), blues rock ('Wild Flower') and a unique crack at Britpop ('Star').
18. Suede 'Sci-Fi Lullabies' (1997)
'Sci-Fi Lullabies' gathers B-sides to all of Suede's previously released singles. And it shows that in many cases, they're as good, or superior to the songs they supported.
Disc 1 covers the Bernard Butler/Brett Anderson songwriting era ('The Living Dead', 'Dark Star', and 'My Insatiable One' being just a few notable standouts), while Disc 2 deals with the late 90's incarnation, featuring tunes like the synth-pop stunner 'WSD', the mournful 'Jumble Sale Mums' and the glam rave-up 'Money.'
Honorable Mention: had to give a shout out to their proper greatest hits album as well. Solid from top to bottom.
17. TIE: Siouxsie and The Banshees: Once Upon A Time (1981)/Twice Upon A Time (1982)
These two compilations make excellent bookends for the post-punk icons discography, from their experimental, late 70's beginnings on the first release ( 'Christine,' 'Happy House', 'Honk Kong Garden'), while 'Twice' showcases their more accessible late 80's and early 90's material ('Cities In Dust, 'Peekaboo', 'Kiss Them For Me'). And 'Twice' also includes 'Face to Face,' their excellent 'Batman Returns' collaboration with composer Danny Elfman.
16. The Smiths 'Louder Than Bombs' (1987)
The perfect mix of A and B-sides, 'Bombs' is perfect for a Smiths' fan on a budget. In addition to the classic original track 'Sheila Take A Bow,' there's one-offs like the aborted single 'You Just Haven't Earned It Yet, Baby' and single-specific A and B-sides that prove difficult for even the most ardent import collector to find. One such inclusion is 'Please, Please, Please Let Me Get What I Want': 1 minute and 52 seconds of mopey perfection.
15. Roxy Music and Bryan Ferry 'Streetlife: 20 Greatest Hits'(1986)
This wide-spanning album picks the most iconic chestnuts from both Roxy Music and Bryan Ferry's solo career. Thus you get some 70's glam classics ('Virginia Plain'), New Wave soul ('Dance Away The Heartache', 'Angel Eyes', 'More Than This') and Ferry's transcendent take on John Lennon's 'Jealous Guy.' The perfect mix for dinner parties and cocktails.
14. The Jesus and Mary Chain 'Barbed Wire Kisses' (1988)
This collection of singles, B-sides and rarities is a must have for hardcore JAMC fans: their cover of Bo Diddley's 'Who Do You Love' is transcendent weirdness, as is their sand-blasted rendition of The Beach Boys 'Surfing USA.' And original tracks like 'Kill Surf City' and 'Sidewalking' are hardcore cult fan favorites.
13. The Sisters of Mercy 'Some Girls Wander By Mistake'(1992)
What The Sisters of Mercy lack for in quantity (a scant three studio albums), they more than made up for in quality. And this collection of singles and B-sides stacks up just as nicely.
Featuring early EP singles 'Alice' and 'Temple of Love', as well as moody additions like 'Valentine' and 'Heartland', 'Wander' is chock full of black clad Gothic awesomeness. And their covers of The Stooges '1969' and The Rolling Stones 'Gimme Shelter' ain't too shabby either.
12. Nirvana 'Incesticide' (1992)
Some cynical Gen-Xers saw Nirvana's 'Incesticide' as a corporate rock cash-in after the success of 'Nevermind.' The ever wary Kurt Cobain was inclined to agree, but signed off on this B-side and demos collection in exchange for designing its artwork.
Regardless, the album's a keeper: the ramshackle 'Aneurysm' is one of their best ragers, 'Sliver' is one of their most deliriously catchy songs, and their covers of The Vaseline tunes 'Molly's Lips' and 'Son of a Gun' are wonderfully infectious.
11. TIE: Bauhaus '1979-1983'Volume 1/Volume 2 (1985)
Originally released as a single album in the UK, this dual release is a must-have for any serious Goth-fan.
Disc one is harder edged, containing their classic 'Bela Lugosi's Dead,' along with dark gems like 'Stigmata Martyr' and 'In The Flat Fields.' and their T.Rex cover 'Telegram Sam.'
Disc 2 shows their more ethereal side on tracks like 'Who Killed Mr. Moonlight?' and 'She's in Parties', along with their seminal cover of David Bowie's 'Ziggy Stardust'.
10. TIE: The Misfits Collection One (1986)/Collection Two (1995)
Any aspiring Misfits Fiend Club member needs these in their arsenal. Covering all the best horror punk tracks from the Glenn Danzig led incarnation (i.e. the only one that matters) couldn't be contained in just one disc, but two does the job nicely.
Collection One features iconic tunes like 'Hollywood Babylon', 'Where Eagles Dare', 'Skulls' and 'Die, Die My Darling' while Collection Two keeps the party rolling with angry anthems like 'We Are 138', 'Last Caress' and 'Attitude'. Don't be surprised if you involuntarily grow a devilock after back to back listens.
9. Smashing Pumpkins 'Pisces Iscariot' (1994)
Best known for featuring the group's cover of Fleetwood Mac's 'Landslide', 'Pisces Iscariot' also serves as a sampling of excellent B-sides and odds and ends. 'Pissant' and 'Hello Kittykat' rocks just as hard as 'Cherub Rock', 'Blew Away' features a rare vocal nod from guitarist James Iha, and tracks like 'Obscured' and 'Whir' flirt with dream pop.
And 'Starla' is a stratospheric, celestial-shaking masterpiece, and one of their best songs period.
8. Depeche Mode 'Catching Up With Depeche Mode'(1985)
'Catching Up' was a sly move to get American audiences up to speed on the British synth-pop legends to help break them in the States. It still serves as a perfect sampler of their nascent beginnings.
It also shows their musical evolution from their upbeat Vince Clarke led beginnings ('Just Can't Get Enough', 'Dreaming of Me') to the darker arrangements under Martin Gore's direction ('Shake The Disease', 'Blasphemous Rumors'). Most importantly it features 'Somebody,' Gore's torch-song ballad that proved an anthem for lovelorn Goths and New Romantics the world over.
7. Echo & The Bunnymen 'Songs To Learn and Sing' (1985)
If you can only own one Echo & The Bunnymen album, 'Songs' is a perfect representation of the band's early 80's material. In addition to their best-known hits ('The Killing Moon', 'Seven Seas'), you get integral non-album singles ('Rescue',' 'Never Stop'), B-Sides ('Do it Clean'), and the perviously unreleased 'Bring on The Dancing Horses,' which has become a beloved fan favorite. Perfection.
6. Queen 'Greatest Hits' (1981)
Ok, so Queen don't exactly qualify as alternative, but given their influence, and the sheer impeccable track listing on their first compilation album, I have to insist. While it has all the mega hits you'd hope to expect ('We Will Rock You', 'Another One Bites The Dust', etc, etc), it's most notable for containing their theme song to 'Flash Gordon', which is unavailable on all later compilations.
5. David Bowie 'Changes' (1990)
There have been so many Bowie compilations, that picking a definitive one is downright daunting. But when push comes to shove, 'Changesbowie' is the perfect starter kit for any budding fan of the Thin White Duke.
Splitting the difference between his glam 70's output ('Ziggy Stardust', 'Changes'), transitional future-funk ('Fame', 'Golden Years') and New Wave renaissance ('China Girl', 'Let's Dance') it does exactly what a great comp should do: turn you on to the mainstays so that you're inspired to seek out the higher hanging fruit.
4. The Cure 'Standing on a Beach' (1986)
While notable for containing hits like 'Close To Me', and 'Boys Don't Cry', 'Beach' most importantly gives fans one-stop-shop access to non-album singles like 'Charlotte Sometimes' and 'Let's Go To Bed' as well as an alternate cut of their atmospheric masterpiece 'The Forest.'
And it's notable for containing their most misunderstood and controversial song 'Killing An Arab', whose title and lyrics were inspired by Albert Camus's philosophical novel 'The Stranger'.
The album notably includes this disclaimer: "The song 'Killing an Arab' has absolutely no racist overtones whatsoever. It is a song which decries the existence of all prejudice and consequent violence. The Cure condemn its use in furthering anti-Arab feeling."
3. Ramones 'Ramones Mania' (1988)
The best punk compilation album ever made, 'Mania' dishes up all the hits you know you 'wanna' want ('I Wanna Be Sedated', 'Beat on The Brat', 'Teenage Lobotomy', etc, etc.), as well as the single version of 'Sheena Is A Punk Rocker', the film version of 'Rock'n'Roll High School', and the B-Side 'Indian Giver.'
And with their super-short song structures, it's the quickest 30-song album you'll ever hear.
2. Joy Division 'Substance' (1987)
Joy Divison only released two studio albums before frontman Ian Curtis's tragic death, but 'Substance' helps fill the gap. It compiles crucial non-album singles ('Transmission', 'Love Will Tear Us Apart', 'Atmosphere'), badass B-sides ('Dead Souls') and EP material ('Warsaw'). All combined, it shows an amazing amount of musical growth and experimentation in a mere four years.
1. New Order 'Substance' (1987)
Released the same year as the Joy Division collection, New Order's 'Substance' is a parallel dimensional offering, with Joy Division's surviving members migrating from a morose sound into more upbeat electronic dance territory.
You weren't a cool kid in my high school if you didn't have the 'Substance' cassette in your car tape case, and its essential status hasn't dulled with age.
A hybrid of greatest hits and remix album, 'Substance' compiles all the band's earlier singles in their extended 12 inch form. Even if some remixes ('Blue Monday', 'Temptation', 'Bizarre Love Triangle') have aged better than others ('Subculture', 'Confusion'), it's nearly impeccable. Plus the extra track 'True Faith' might be the best 'add-on' track of any compilation album.
The 2-disc version goes one better, featuring B-sides to all aforementioned singles, including highlights like 'In A Lonely Place', and '1963.'
It's no wonder it's New Order's best-selling album, living up fully to its title.
Honorable Mention: Prince 'The Hits/The B-Sides'
Remember how I said no box sets? Well, even if he's not "alternative," I felt compelled to mention Prince's 3-disc set. With all his greatest hits, plus choice B-sides, it's one of the best collections of its kind.
So that wraps up my list of the all-time best alternative rock compilation albums. Now it's your turn. What greatest hits/B-side collections would you add to the list? Tell me in the comments.
And be sure to check back next week when I rank The Jesus and Mary Chain's entire discography in honor of 'Psychocandy's' 30th anniversary.
Here's a few other honorable mentions that almost made the cut: