20 Best Movie Car Chase Scenes Of All Time: Counting down the coolest, non-CGI, hair-raising car chases in film history.
After numerous setbacks, Mad Max 4: Fury Road has a 2014 release date. Given such a troubled gestation, one can wonder about the quality of the film.
I wonder if Fury Road will be neutered by director George Miller's love of CGI?  He directed Happy Feet, and his original idea for a Justice League Film was mostly digitally driven. But what makes Miller's original Mad Max movies so thrilling are the practical car stunts. CGI car chases just lose vitality upon close scrutiny.
Car chases are a cinematic institution. And the best involve death-defying stunts by skilled adrenaline junkies.
With that in mind, here's the 20 best movie car chases that refrain from excessive digital trickery. So this excludes movies like the Fast And Furious series, Matrix Reloaded, etc.
If you'd like to buy any of these classics on Blu-ray I'll have Amazon links under each title and will include YouTube clips where available.
SPOILER ALERT: Some YouTube clips and my descriptions contain plot reveals.
20. Children Of Men (2006)
[amazon_image id="B001YV502C" link="true" target="_blank" size="medium" ]Children of Men [Blu-ray][/amazon_image]
In a dystopian future, a group of activists are trying to escape from violent militants. How?  By driving in reverse (in an extended shot to heighten the tension) while being assaulted on all sides.  Director Alfonso Cuarón (Gravity) excels at suspense with emotional consequences, and this gut-wrenching scene is no exception.
19. Drive (2011)
[amazon_image id="B0064NTZJO" link="true" target="_blank" size="medium" ]Drive (+ UltraViolet Digital Copy) [Blu-ray][/amazon_image]
Nicolas Winding Refn's stylish 80's throwback also has a driving-in-reverse-at-top speed sequence. I also love Refn's inspired choice to frame a car crash through the rear window of  the Driver's (Ryan Gosling) car.
18. License To Kill (1989)
[amazon_image id="B00000K0E7″ link="true" target="_blank" size="medium" ]Licence To Kill (Special Edition)[/amazon_image]
Timothy Dalton's Bond movies get a largely undeserved bad rap. License to Kill features a bonkers chase scene, where 007 drives a big rig while fighting off a truck driver, an RPG and an airplane!
17. The Hidden (1987)
[amazon_image id="0780628586″ link="true" target="_blank" size="medium" ]The Hidden[/amazon_image]
This underappreciated sci-fi thriller kicks off with a badass high-speed chase between a killer alien in a Lamborghini and his cop pursuers, filled with his dark comic moments:
16. Race With The Devil (1975)
Only the 70's would produce a movie about Satanists chasing vacationers in an RV. The capper is the finale, where Roger (Peter Fonda) shoots his attackers from the roof of the RV while Frank (Warren Oates) puts the pedal to the metal.
15. Dirty Mary Crazy Larry (1974)
Fonda's in the driving seat this time, playing a NASCAR hopeful who's pulled a robbery to finance his dream. But the cops are onto him, which leads to an epic chase (and an unexpected twist).
Own Dirty Mary, Crazy Larry and Race With The Devil together on Amazon:
[amazon_image id="B00BLU3M4O" link="true" target="_blank" size="medium" ]Dirty Mary, Crazy Larry / Race With The Devil [Blu-ray][/amazon_image]
 14. The Dark Knight (2008)
[amazon_image id="B004LWZWGK" link="true" target="_blank" size="medium" ]The Dark Knight Rises [Blu-ray][/amazon_image]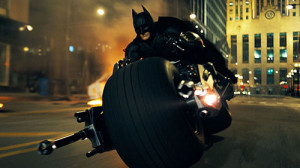 Christopher Nolan's Batman movies always favored practical effects, using CGI to a minimum. The car chase in Batman Begins was great, but he ups the ante for the sequel. Batman loses the Tumbler in his chase with the Joker's truck, but emerges with the Bat-pod , using its his cable gun to flip over the Joker's big rig.
And nope, no digital trickery was used in that sequence as this behind-the-scenes clip attests:
13. The Driver (1978)
[amazon_image id="B0007ZEOC8″ link="true" target="_blank" size="medium" ]The Driver[/amazon_image]
Walter Hill's 70's gem was a big influence on Drive (both protagonists are quietly stoic getaway drivers, and both only go by 'Driver'). It features several great chases, the opening being the best, with our anti-hero ably out maneuvering the police post-heist.
12. The Bourne Supremacy (2004)
[amazon_image id="B002ZHKZCY" link="true" target="_blank" size="medium" ]The Bourne Supremacy (Blu-ray + DVD)[/amazon_image]
This movie gave viewers motion sickness with its handheld camerawork, but it plays in its favor in this dizzying Moscow car chase. Bourne (Matt Damon) pours whiskey in his gunshot wound while trying to escape from his pursuer Krill (Karl Urban). Numerous collisions and spinouts follow in such quick succession that you get sympathy whiplash.
11. The Seven-Ups (1973)
[amazon_image id="B007T2M8WA" link="true" target="_blank" size="medium" ]11. The Seven-Ups (1973)[/amazon_image]
This gritty crime drama starring Roy Scheider has a 11 minute bravura chase sequence, orchestrated by legendary stunt driver Bill Hickman (more on him later). Scheider's  NYC detective is in hot pursuit of two baddies through crowded New York streets, which leads to a heart pounding finish.
10. Ronin (1998)
[amazon_image id="B000OPOAJS" link="true" target="_blank" size="medium" ]Ronin [Blu-ray][/amazon_image]
Director John Frankenheimer stages an exquisite chase in Ronin. Robert De Niro and Jean Reno play special ops agents pursuing a group escaping with valuable cargo.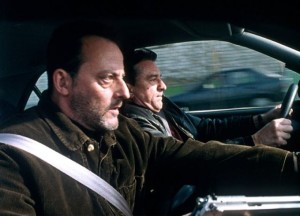 The chase goes between Paris and Nice France, with maimed pedestrians and many totalled cars left in their wake. It goes into overdrive when the chase moves into opposing traffic lanes, becoming a psychotic game of chicken.
9. To Live And Die In L.A. (1985)
Speaking of driving into oncoming traffic, William Friedkin's seedy crime drama excels in a wrong way traffic car sequence (in rush hour traffic no less). The complicated sequence took over 6 weeks to shoot. And yes that's a young William Peterson (CSI) behind the wheel.
8. Terminator 2: Judgment Day (1991)
[amazon_image id="B001RIY4WE" link="true" target="_blank" size="medium" ]Terminator 2: Judgment Day (Skynet Edition) [Blu-ray][/amazon_image]
While the film employed CGI for the T-1000, the car chase was pure grit. Young John Connor speeds across the San Fernando flood channels on his motorcycle, pursued by the T-1000 in a big rig and Schwarzenegger on his Harley. Between the rig crashing off an overpass while still continuing pursuit,  and Schwarzenegger sailing off an off-ramp, it's a beautifully constructed sequence.
7. Vanishing Point (1971)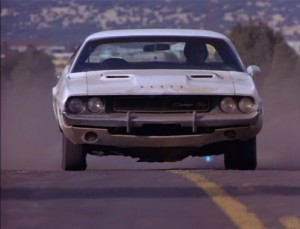 The drug fueled storyline doesn't make much sense, but Vanishing Point is all about the thrill of racing down the open road, and the adrenaline fueled chase between Kowalski (in his Dodge Challenger) and the cops is pure wheel squealing bliss.
6. Duel (1971)
Stephen Spielberg's directorial début (based on a story by Richard Matheson) is a car chase from start to finish, with a poor beleaguered motorist (Dennis Weaver) being pursued up the desert highway by a relentless tanker truck driver.  This early scene is particularly taut when Weaver's car goes on the fritz as the trucker bears down on him:
 5. Mad Max (1979)
The first salvo in Miller's apocalyptic car race series kicks off with a breakneck chase across the Australian Outback. The chase to catch a crazed maniac involves several police cars (one goes through an RV, a motorcycle skids out), but it's up to Max to take care of business in the end.
4. The French Connection (1971)
[amazon_image id="B008YAPRPG" link="true" target="_blank" size="medium" ]French Connection [Blu-ray][/amazon_image]
Director William Friedkin's second entry, is this chase,  where Popeye Doyle (Gene Hackman) races his Pontiac Le Mans to catch a subway train carrying a villainous drug dealer.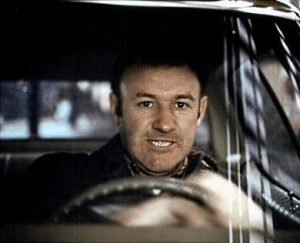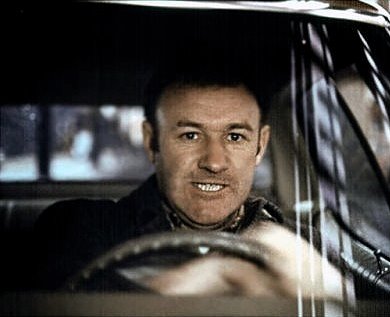 Many stunts were done illegally, with real pedestrians and motorists put in harm's way without their knowledge. Stunt driver Bill Hickman's expertise helped avoid fatalities (although there were several collisions).
But hey, you can't deny it's a badass scene!
3. Death Proof (2007)
Tarantino's Grindhouse entry got lukewarm to negative reviews, and much of this is deserved. The endless rambling dialogue is mind-numbing. BUT, the ending chase scene is totally worth the price of admission, when evil Stuntman Mike makes the mistake of playing road games with a group of women equally well versed in vehicular mayhem.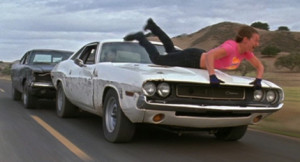 Seeing the 2 cars battling it out while lead actress/stuntwoman Zoe Bell clings to the hood of the car for dear life is jaw dropping.
2. The Road Warrior aka Mad Max 2 (1981)
Miller's Mad Max sequel has a richer storyline, and a more apocalyptic setting. The closing car chase is automotive ballet; Max is driving a tanker besieged by an armada of beat-up muscle cars hungry for gas. His allies try to fight them off, and casualties are had on both sides. There's not much else to say except that it kicks major ass:
1. Bullitt (1968)
[amazon_image id="B000MV90IU" link="true" target="_blank" size="medium" ]Bullitt [Blu-ray][/amazon_image]
The movie that invented the modern car chase as we know it. It's beyond iconic; Steve McQueen looking effortlessly cool in his Ford mustang, chasing after 2 hit-men through the steep San Francisco streets.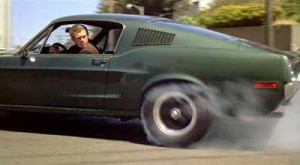 One of those hit-man was (wait for it) Bill Hickman, marking his involvement in 3 epic car chases! McQueen did much of his own driving, with only the most treacherous bits farmed out to other stunt drivers. It still holds up and remains thrilling as hell.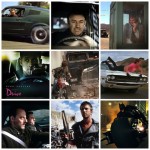 So that's it! My list of the 20 best, most thrilling and iconic movie car chases in film history. Do you agree? Have any you'd like to add? Tell me in the comments.