20 Best David Letterman Alternative Musical Performances: counting down the best alt-rock musical guests over The Late Show hosts' 33 year career.
On Wednesday, May 20, 2015, CBS's The Late Show with David Letterman will be signing off. The veteran comic host may still be entertaining us in some form or fashion, but his retirement from the late night talk show format signals the end of an era.
Much has been made of Letterman's mark on comedy: his sense of irony and awkward humor helped shaped the face of 21st century comedy. But it's also worth noting his musical legacy. His taste had a major impact on breaking young musical acts to a wider audience.
Back when started Late Night With David Letterman on NBC in the early 80's, he distanced himself from mentor Johnny Carson by featuring a variety of rock acts that would have freaked out audiences during The Tonight Show's time-slot.
Fans of alternative rock, in particular found Letterman's musical taste a godsend, as Dave Grohl mentioned in a recent Entertainment Weekly interview: That was one of the reasons why I loved Letterman's show as a kid—because he always had cutting-edge artists perform, much more than any other television show. It's really important that people in his position understand that they have influence over the direction of pop culture—especially musically.
And this is something that hasn't waned: back in April, the internets were abuzz with the bizarre, theatrical performance by synth-poppers Future Islands, bringing them significant mainstream exposure.
So with that in mind, let's take a look at 20 of the most eclectic and exciting performances from alternative rock bands and solo artists to grace the stages of both Letterman's NBC and CBS late night eras, all the way from 1982-2015.
20. Oasis-Live Forever (1994)
The Britpop icons made their U.S. television début on Letterman's Late Show back in 1994.
19. Primus-Wynona's Big Brown Beaver (1995)
Letterman gleefully goads the audience: Get real close to the TV kids, it's Primus!! Then they take the stage in penguin suits. Ah, the 90's.
18.Ween-Exactly Where I'm At (2000)
Ween on Letterman. A match made in heaven.
17. Living Colour-Ignorance Is Bliss
A funk-metal set so hot that Letterman prefaced it thusly: If this song don't drop ya, you're not hooked up right!
16. At The Drive In-One Armed Scissor (2000)
A performance so amazingly unhinged it was inevitable the band would combust soon after.
15. White Zombie-More Human Than Human
The industrial metal group topped off a slamming performance by jumping into a vat of pudding. Magic.
14. Iggy Pop-Cold Metal (1988)
Iggy Pop tops off a manic performance from his Instinct album with a hilarious interview. When Dave asked how he spent his summer, he mentions he spent them in the flesh pots of Los Angeles searching for real sleazy guitar players! One of which turned out to be The Sex Pistols Steve Jones.
13. Concrete Blonde-Mexican Moon (1994)
Letterman is clearly smitten with vocalist Johnette Napolitano, teasing her before their set: their lead singer turns out to be my fiancée!
12. Sonic Youth-Bull In The Heather (1994)
Yep, this happened. 1994 was a magical year for music on Letterman.
11. Red Hot Chili Peppers-Higher Ground (1990)
A boisterous cover of Stevie Wonder's classic during Letterman's NBC era. Paul Schaffer is having the time of his life adding organ accompaniment.
10. Pulp-Common People (1995)
The British alternative group made their U.S. début playing their (now) classic hit. Frontman Jarvis Cocker gave an epically animated performance.
9. Pixies-Trompe Le Monde (1991)
The Boston band's television début featured a spirited performance, joined by Paul Schaffer and the Late Show band. Pixies guitarist Joey Santiago would later say of Letterman's musical director/organist: You know, he did a good job, scrunched up on his keyboards rocking away!
8. Alice In Chains-Again/We Die Young (1996)
One of the few TV performances from the band features a musical Easter Egg for longtime fans. While the late Layne Staley's gaunt appearance is a disturbing foreshadowing of things to come, the performance is electric.
7. Radiohead-Karma Police (1997)
A rare U.S. television performance, and a damn good one too (referenced on the bands' Meeting People Is Easy documentary).
6. Rage Against The Machine-Guerilla Radio (1999)
A performance so cantankerous it couldn't be confined to the Ed Sullivan theater.
5. Queens of the Stone Age-No One Knows (2002)
A great performance from one of Dave's favorite bands.
4. R.E.M.-Radio Free Europe (1983)
Athens' finest making their national TV début. One of the earliest examples of Letterman's tastemaker status.
3. Beastie Boys-Ch-Check It Out (2004)
One of the last appearances of the late MCA features a spirited performance that sees the Beasties walking all the way from the NYC subway to the Ed Sullivan theater without breaking a sweat.
2. Ramones-I Don't Wanna Grow Up (1996)
A slamming Tom Waits cover from the group's final studio album.
1. Foo Fighters-Everlong (2000)
The Foo Fighters have played The Late Show many times, but this was the most poignant. Letterman made an emotional return to late night TV after having quintuple bypass surgery. So The Foos were on hand to welcome back. His intro was short but sweet: Ladies and gentlemen, my favorite band, playing my favorite song.
Honorable Mention #1: Foo Fighters-Miracle
The Foo Fighters played Letterman for a full week back in October, and the talk show host gave a lengthy intro to discuss the significance that their song Miracle had on him as a father, as it soundtracked a video of him spending time with his son: This is the second song of theirs that will always have great, great meaning for me for the rest of my life.

Honorable Mention # 2: Eddie Vedder-Black (1996)
Last night Vedder did a performance of Better Man on Letterman (I was just waiting for him to sing Letterman as a quick homage. No such luck)
But back in 1996. Pearl Jam performed Black on the show, and Letterman was so enthralled he later asked Schaffer to work out the melody…thus prompting Vedder to pop up unannounced and wail the outro, only to disappear again. Dave chases after him in delight, screaming Eddie! He's gone! He's history! He's in a cab!
So that wraps up our list of the top 20 alternative rock performances on Late Night/Late Show with David Letterman. But after 33 years of broadcasting, we're just scratching the surface of best musical guests (Moby, Marilyn Manson, U2, Lou Reed, Smashing Pumpkins, STP, Screaming Trees) are just but a few painful omissions). It was so painful to not have a Top 10 list. But that's what happens when you have an embarrassment of riches.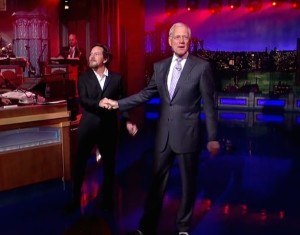 So. What performances from over three decades of bands and musical guests would make your best of Letterman list? Tell us in the comments.
Thanks for the laughs Dave…and the musical memories.
[amazon_image id="B000002NJD" link="true" target="_blank" size="medium" ]Live On Letterman: Music From The Late Show[/amazon_image][amazon_image id="B00000IPG9″ link="true" target="_blank" size="medium" ]Radiohead – Meeting People Is Easy[/amazon_image]