Sold! The 1966 Batmobile goes for a cool 4.62 million at an Arizona Auction…

In the history of awesome movie cars, the original 1966 Batmobile can't be beat. It looks just as cool as it did during the heyday of the Adam West TV show.
And while Christopher Nolan's Tumbler is an awesome reinvention of the archetypal superhero vehicle, the sleek angular lines of George Barris's design just emanate awesomeness.
And now some lucky SOB owns the fabled car, brought at an auction in Scottsdale Arizona. And they paid a pretty penny too: $4.62 million!
Barris's original design was a fusion of a Ford concept car and a Lincoln Futura.
I was lucky enough to check it out in person when it made an appearance at the Paramount Theater in Austin TX preceding a screening of the 1966 Batman Movie, a feature-length adaptation of the TV series.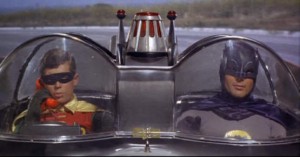 And last year there was a car race between the Barris model and the 1989 Anton Furst designed Batmobile from Tim Burton's 1989 Batman film. Check out the clip to see who won.

And The Dark Knight Rises Blu-ray has an awesome retrospective on all incarnations of the Batmobile, but Barris's orignal still steals the show. Here's a preview. (sadly Joel Schumacher's hideous interpretation of the vehicle is also included.
If only I had that much disposable income.
Now if you'll excuse me, I'm gonna work on adding bat fins and a jet propelled engine to my Hyundai.
Here's a bunch of cool Batman and Batmobile related goodness:
[amazon_image id="B004LWZWGK" link="true" target="_blank" size="medium" ]The Dark Knight Rises (Blu-ray/DVD Combo+UltraViolet Digital Copy)[/amazon_image][amazon_image id="B0016MOWOQ" link="true" target="_blank" size="medium" ]Batman: The Movie [Blu-ray][/amazon_image][amazon_image id="1608871037″ link="true" target="_blank" size="medium" ]Batmobile: The Complete History[/amazon_image][amazon_image id="B0047BC77C" link="true" target="_blank" size="medium" ]Round 2 Batmobile Classic 1:25 Scale Snap Model Kit[/amazon_image][amazon_image id="B00A2LOAKI" link="true" target="_blank" size="medium" ]Batman: The Dark Knight Returns, Part 2 [Blu-ray][/amazon_image][amazon_image id="B008RV5K5E" link="true" target="_blank" size="medium" ]Batman: The Dark Knight Returns, Part 1 [Blu-ray][/amazon_image]