11 Soundtracks Fans of the 'Stranger Things' Score Should Hear: Love the soundtrack to Netflix's sci-fi/horror hit? Here's eleven more synth-driven scores you should check out next.
It's safe to say that Stranger Things is the pop-culture phenomenon of the year. The Netflix original series (created by identical twin creative team The Duffer Brothers) is a love letter to early 80's cinema, from vintage Stephen Spielberg coming of age driven sci-fi to Stephen King horror.
And one of the most talked about keys to its success is its soundtrack. In addition to classic 80's tunes from the likes of Corey Hart, The Clash and Echo & The Bunnymen, it's the whirring, sparkling electronic score from synth-core act S U R V I V E (Kyle Dixon & Michael Stein) that has drawn overwhelming praise, with a much in-demand soundtrack finally getting its release this month.

With that in mind, here are eleven (in honor of El, of course) other vintage and modern soundtrack/scores that fans of Stranger Things should add to their collection (I've included Amazon links under each entry for preview or purchasing).
11. Phantasm-Fred Myrow, Malcolm Seagrave (1979)
The parallels between Phantasm and Stranger Things are strong given both take place in a small town threatened by a supernatural secret. And the soundtrack features a creepy prog atmosphere anchored by a dreamy descending keyboard theme.
10. Cat People-Giorgio Moroder (1982)

A leading disco producer who balanced into soundtrack works, Moroder is best known for scores from Midnight Express and American Gigolo, but his work on Paul Schrader's Cat People remake shows a sensual take on 80's horror. Plus it has Cat People (Putting Out Fire) a collaboration with David Bowie, who had his own homage of sorts on Stranger Things.
9. The Guest-Original Motion Picture Soundtrack (Various Artists, 2014)
This 80's throwback soundtrack featured a host of synthwave acts, including Gatekeeper, Mike Simonetti and S U R V I V E themselves, perfect for a film fusing elements of John Carpenter and Jams Cameron. It also has a grab bag of 80's rock from the likes of Love & Rockets and Sisters of Mercy.
8. The Terminator-Brad Fiedel (1984)

Fiedel's anthemic score for James Cameron's sci-fi classic is full of metallic clangs and symphonic synths that still holds up today.
7. Suspiria-Goblin (1977)

A twinkling music box of dread , Italian prog-rockers Goblin cast an ominous mood for Dario Argento's Giallo classic with this haunting score, which has inspired countless electronic film composers.
6. It Follows-Disasterpeace (2015)
This 2015 critically acclaimed horror film about teenagers stalked by a sexually transmitted boogeyman had an evocative 80's retro score by Disasterpeece akin to the theme from Stranger Things. While I personally found the film pretty underwhelming, the score is absolutely brilliant.
5. Drive Soundtrack-Various Artists (2011)
One of the first films to kick off the whole synth-wave neon-noir soundtrack revival, Drive features a host of great score work, from primary composer Cliff Martinez, to other electronic artists including Chromatics, Desire, Youth and Kavinsky, who had a minor hit with the electro-ballad Nightcall.
4. Blade Runner-Vangelis (1982)
Vangelis' Blade Runner score has one of the most influential and revered soundtracks of the 80's, adding sci-fi glitz to jazz and blues arrangements, and it (and the dystopian classic film) holds reverence for both S U R V I V E and the Duffer Brothers. They even honored the composer by including the (non Blade Runner) track Fields of Coral in the series.
3. Twin Peaks-Angelo Badalamenti (199)

Badalamenti's score notes the sole appearance of a television specific soundtrack on this list. This is notable given Twin Peaks was the type of big-budget cinema worthy-television that pioneered our modern era of TV shows like Stranger Things that are as good or better than what's playing in your local multiplex.
And its tale of supernatural dealings in a small town also hold sharp parallels. While including instrumentation beyond its use of keyboards, Twin Peaks electronic overtones are pronounced and powerful, and tracks like its melancholic title theme made an impact upon Dixon and Stein.
Honorable TV Soundtrack Mention–Mr Robot:
2. Firestarter-Tangerine Dream (1984)

This german electronic rock collective overall influence on film scoring can't be ignored. Their work on William Friedkin's Sorcerer inspired everyone from John Carpenter to S U R V I VE itself. Likewise, they've made a slate of great horror and sci-fi soundtracks including Near Dark, The Keep and Legend.
But Firestarter is most appropriate for this list given the film was a Stephen King adaptation about Charly (Drew Barrymore), a young girl with supernatural abilities who was subject to cruel government testing, who clearly inspired the character of Eleven (El, played by Billie Bobby Brown) in Stranger Things. Tangerine Dream were given their due on Stranger Things, with the inclusion of their non-soundtrack single Exit.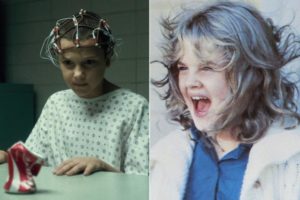 1. Christine-John Carpenter (1983)

While the members of S U R V I V E have downplayed the influence of John Carpenter in their work, they have to know that this will cause die-hard Carpenter fans to roll their eyes . Like Tangerine Dream, the filmmaker/composer helped lay the sonic groundwork for all synth-based scores to follow.
Dixon and Stein owe much of their sound to his influence, and even the Duffer brothers honored Carpenter's directorial work by showing a Thing poster (prominently displayed on Mike's Wheeler's wall).
Choosing just one John Carpenter score is near impossible (see the list above link for even more) but we thought an underrated soundtrack associated with a 80's Stephen King property seemed most appropriate, and his score for Christine is one dark beauty: menacing yet sleek, almost dance-floor worthy, exposing the supernatural menace of a possessed car in a sleepy town.
Well that wraps up our list of electronic film and TV soundtracks that should appeal to Stranger Things fans! Are there any you'd like to add to this list? Tell us in the comments.
Own the 'Stranger Things' soundtrack on Amazon and iTunes: